COVID-19 hit radiology hard, but a rebound appears to be underway
Medical imaging volume was hit hard by the COVID-19 pandemic. Fortunately, as the old adage says, this too shall pass. But when? And what should practices being doing to prepare for the return?
Specialists from vRad, a MEDNAX company, addressed this very subject on a recent webinar of nearly 400 radiologists and administrators, assessing the current situation and looking ahead to a time when the world may finally be able to put COVID-19 in the rear-view mirror.
The event opened with highlights of the impact COVID-19 has had on imaging volumes throughout the United States. Inpatient and emergency room imaging plummeted by approximately 40%, for instance, with outpatient imaging taking a hit closer to 70%. Daytime imaging was impacted hardest due to prevalence of elective procedures being performed─vRad's data illustrated a daytime impact nearly 15% worse than nighttime imaging at the lows of the demand pullback. 
The unfortunate reality of these statistics is that practice leaders across the country had to implement widespread changes just to stay afloat.  Practices responded to this strange and unusual time in four primary ways: mandatory vacations, scheduling adjustments, salary cuts and layoffs.
When will things turnaround?
We sat down with one of the webinar's speakers, vRad Vice President of Operations Joe Schmugge, for the latest update on the state of imaging volume. "The good news is, we believe the recent national imaging trends reveal that life is gradually returning" Schmugge was eager to report.
"We are starting to see some of the volume return over the last few weeks," he said. "And we're expecting to see many of the elective procedures start to return in a more reliable fashion during the latter half of May and throughout June."
The results of an internal client survey indicate that some practices expect to eventually recover most, if not all, of the elective procedures they have not seen over the course of the last two months. vRad's data analysts anticipate "a continued gradual return to normalcy across all imaging procedures" throughout Q3 and into Q4.
The company analyzed internal and external data and is tracking several potential outcomes based on a large list of unknowns.
"Imaging demand does appear to have bottomed, stabilized, and now begun the recovery process," Schmugge noted. "We are entering our fourth consecutive week of slow-but-steady volume increases week-over-week since reaching what we believe was the bottom for our practice and much of the nation around April 13." 
He also noted that vRad's outlook for the worst-case and best-case imaging demand scenarios has gradually improved for several weeks while they continue to monitor for regional policies and demand trends.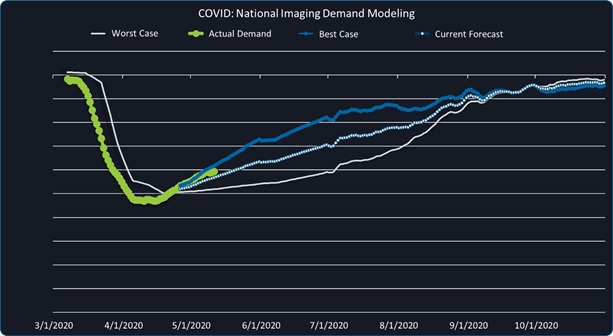 "On a regional level, we're seeing volume return across the country including the hardest hit region in the Northeast," Schmugge said. "It's worth pointing out that the states in the Central region have seen the strongest rebound so far relative to their demand decline, but we're only a few weeks into the recovery process and we're watching this very closely. There is still a high degree of uncertainty about COVID-19 and what the new normal will look like as the nation begins to reopen."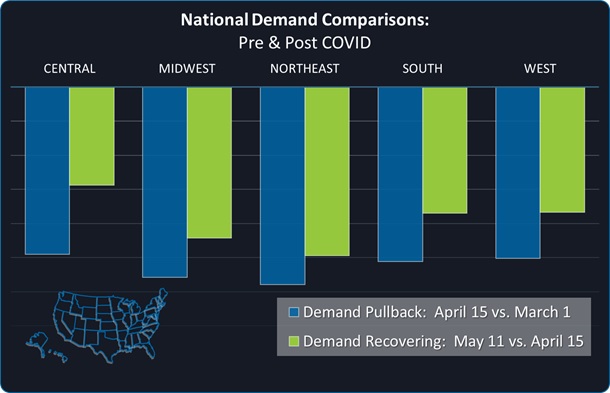 Benjamin Strong, MD, vRad's chief medical officer, pointed out during the webinar that history tells us there may be more waves of this pandemic to come before things are truly back to the way they used to be.
"For every pandemic that has been documented, there hasn't been just a single cycle of infection," Strong said. "These typically run in three cycles for a total of 15 to 18 months. That was the case for the Spanish Flu in 1918 and H1N1 in 2009 … the likelihood of an additional phase remains high."
Schmugge agreed with Strong, noting that this will likely be "a gradual recovery" as opposed to a swift shift that happens overnight.
How vRad has prepared
Strong emphasized that vRad's approach to the COVID-19 pandemic has been calculated from the beginning, focused on keeping the company's staff of more than 500 radiologists intact. Hours that were specifically contracted were all protected, he explained, and new volume was pushed forward as quickly as possible.
In addition, changes were made to how radiologists are assigned specific studies—each case is now placed on one worklist at a time, giving everyone a fair shot and balancing the workload as evenly as possible. And a patient's studies were once all be bundled together, but that practice has been replaced by anatomic bundling that helps subspecialists stick to the work they do best.
These policy shifts are so crucial, Schmugge noted, because it means vRad's team of teleradiologists is ready to go and willing to help as soon as they are needed. Nobody needs to be brought back from furlough or rehired—everyone is already in position and excited to get back to a normal workload. And vRad has been hiring specialists throughout the pandemic, with many new radiologists ready to join in late 2020 and early 2021.