Survey Says: Imaging IT Is Key to Unlocking Gains in Radiology Quality & Efficiency
Workflow Optimization, Unified Reading Platforms and AI are the Top Priorities
A recently published nationwide survey of radiology executives elicited insightful responses from leaders, directors, managers and radiologists representing 67 organizations in 24 states. The robust tally suggests broad and keen interest by imaging organizations in establishing IT benchmarks and leveraging technology to improve quality and performance in this era of value-based care.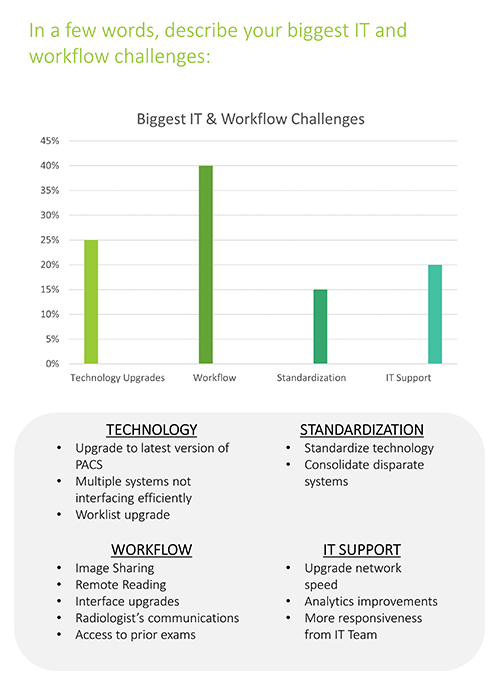 Conducted by Canopy Partners, a North Carolina-based healthcare technology company, the independent survey yielded findings worthy of careful consideration by imaging IT stakeholders.
Respondents ranked their biggest IT and workflow challenges as workflow optimization and keeping technology updated. Workflow optimization has for years represented one of the most persistent challenges for radiology IT.
The Canopy survey shows that, as of 2021, the COVID crisis has brought several pressing radiology IT challenges to the forefront. For example, 40% of surveyed hospitals, group practices and independent imaging centers named workflow as their most important challenge. Keeping technology updated came in at a distant second, named by 25%, followed by IT support (20%) and standardization (15%).
The survey's full results suggest a likely explanation: Radiologist workflow affects or is affected by practically everything a radiology operation does or should do. When it's impeded, productivity falters. When it's streamlined, efficiency soars. Either way, the impact ripples through critical workflow tasks. These include such operational essentials as image sharing, remote reading, interface upgrades, radiologist communications and access to prior exams.
To take a deep dive into the survey findings, Innovate Healthcare recently spoke with two Canopy executives who spearheaded the project—Reed Humphrey, VP of Technology Consulting, and Stephen Willis, VP of Advanced Technology Solutions. They pinpointed the results' highlights and offered insights on each.
A Desire for Higher Performance and Accountability
Published in January, the 2021 Canopy Partners Imaging IT Market Survey Report shows that one of the most nettlesome pain points among imaging IT stakeholders is also one of the oldest: Frustration is widespread over a pervasive lack of communication and coordination among and between imaging IT vendors.
This manifested as lackluster average satisfaction scores on three communication-intensive components that could have earned five stars for high satisfaction but came in below four:
Satisfaction level with radiology IT vendors—3.2
Satisfaction level with radiology IT systems—3.7
Satisfaction level with IT support for radiologists—3.9
Imaging centers tended to be the happiest with each of these, giving IT support for radiologists a collective 4.5 stars, for example. Hospitals and practices were tougher customers to please, with practices giving IT vendors only three stars.
Stephen Willis says a prime tripping point for many imaging IT operations is vendors' ingrained tendency to operate within their silos rather than work collaboratively with other vendors.
"Picture a hospital that has one vendor for PACS, another for voice recognition and a third for image archiving, to name just three," he says. "When something goes down and the rads start pleading for help, imaging IT staff has to figure out the source of the problem before they can solve it. That's when the finger-pointing starts."
It's also when imaging IT starts wishing for a single point of contact—or "one throat to choke," as Willis puts it—to orchestrate the players, own the response and accept accountability for the outcome.
Also struggling with communications along these lines are radiology groups serving multiple facilities, each of which has its own PACS, voice recognition, native systems and so on. "How does a practice stretched like that get consistency and standardization across its full client portfolio?" Willis says. "That's a common yet major challenge."
Drive Toward Standardization
Interestingly, a conspicuous lag is evident in the Canopy survey's group-practice cohort when it comes to the use of a unified reading platform (URP), which supplies a single PACS and radiology environment (VRE) for all rads at all affiliated sites.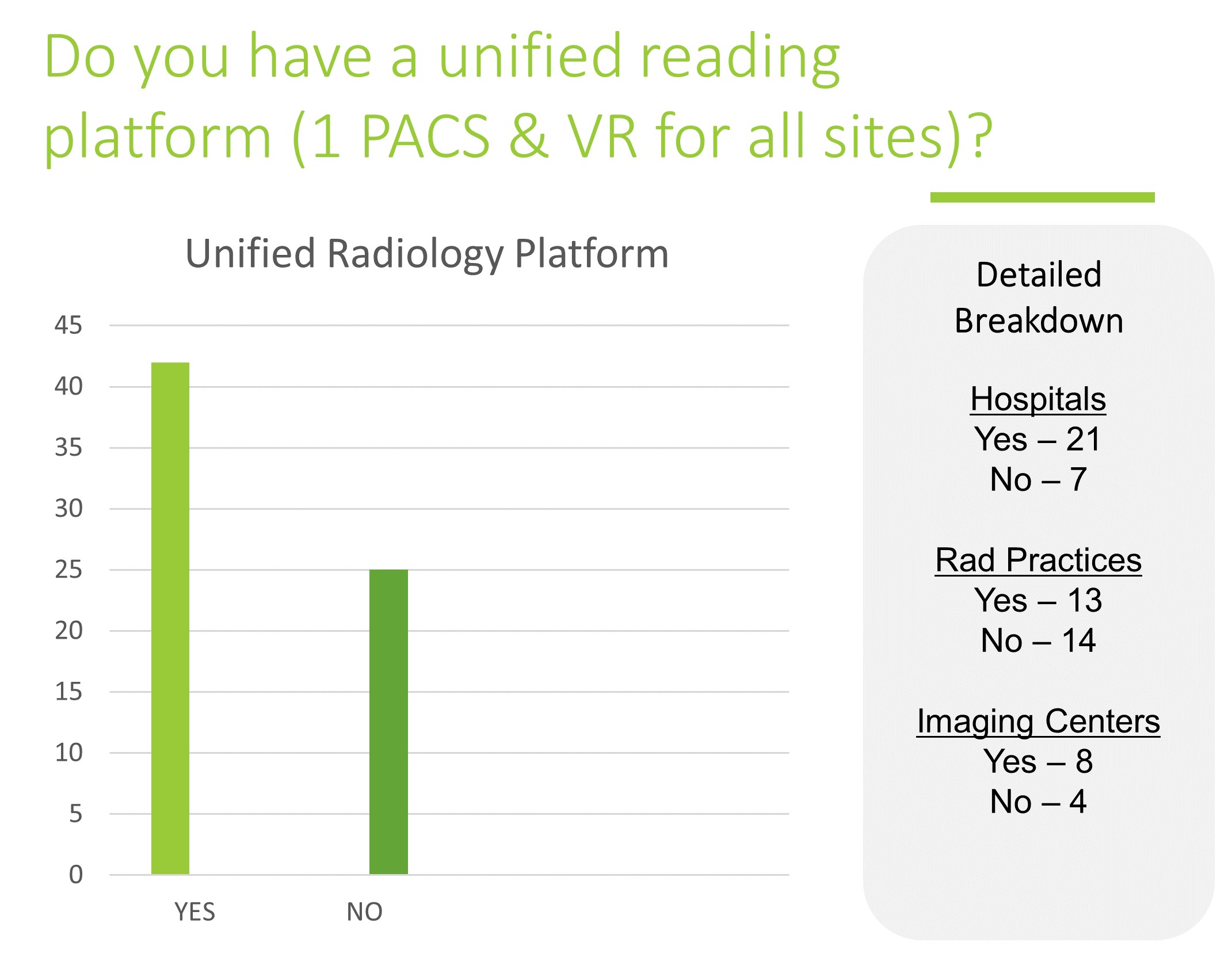 Overall, 62% of Canopy survey respondents have a URP vs. 38% that don't—and Reed Humphrey expects to see growth of URP adoption across the board over the coming years.
"We believe the trend of radiology operations owning their own reading environments and having URPs will continue," he says, adding that this goes for group practices as well as hospital departments and imaging centers. "Everyone is looking for improved efficiency and cost savings," Humphrey adds. "The desire to standardize systems and stamp out siloes is abundant."
One fortuitous windfall from condensing disparate systems to one URP is relieving radiology IT of a longstanding source of pressure. "It's true that having a URP doesn't just save you money and make you more efficient," Humphrey says. "URP technology also reduces your support burden."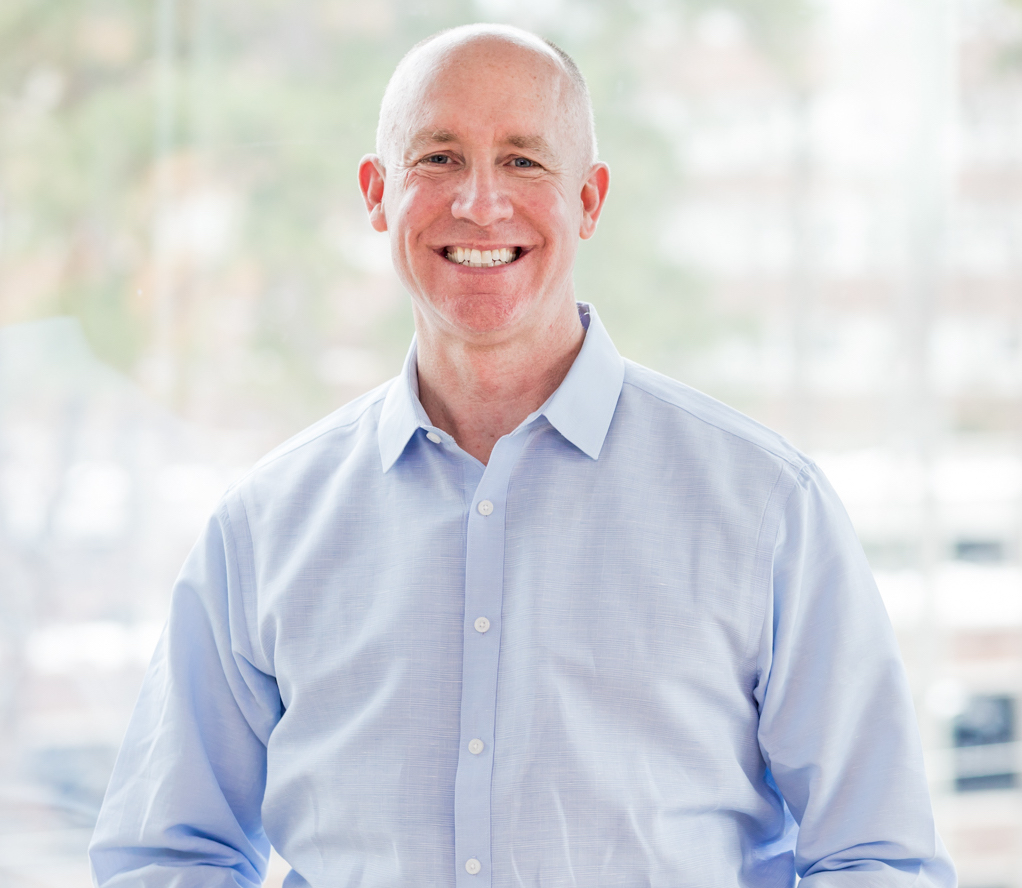 Along the way from URP installation to ongoing use, the adoption can help right size imaging IT operations, Humphrey points out. Canopy Partners maintains that a good rule of thumb is one dedicated radiology IT staffer for every 50,000 imaging exams per year.
"That's until you get up to 150,000 studies," he notes. "After that you probably need one person for each additional 100,000 studies, although it really depends on your mix of advanced imaging vs. simpler studies."
'Leveraging a URP is going to help you find the sweet spot in your staffing levels.'

 
Data Sharing and Security Are Critical
Happily for patients and referrers, the vast majority of respondents to the most recent Canopy Partners Imaging IT Market Survey—84%—are sharing data electronically with external organizations.
The not-so-good news is that security concerns are omnipresent and may be partializing data exchanges that might otherwise be comprehensive. Willis suggests the reticence may be at its worst when a shortfall in trust persists between the purportedly collaborating hospitals, practices and imaging centers.
"Sharing data is not as much of a political challenge as we thought it was," he says, adding that the reluctance tends to have more to do with genuine concern than competitive protectiveness.
Technical hurdles aren't much in play, either. Maximizing data sharing securely and thus confidently often comes down to raising radiology IT's visibility, Willis says.
"You need to have imaging IT leadership involved with data exchange not only for initial setup but also for ongoing maintenance," he explains. "Imaging IT has to assure everyone they're backed by modern, state-of-the-art intrusion detection, system monitoring and anti-breach technologies."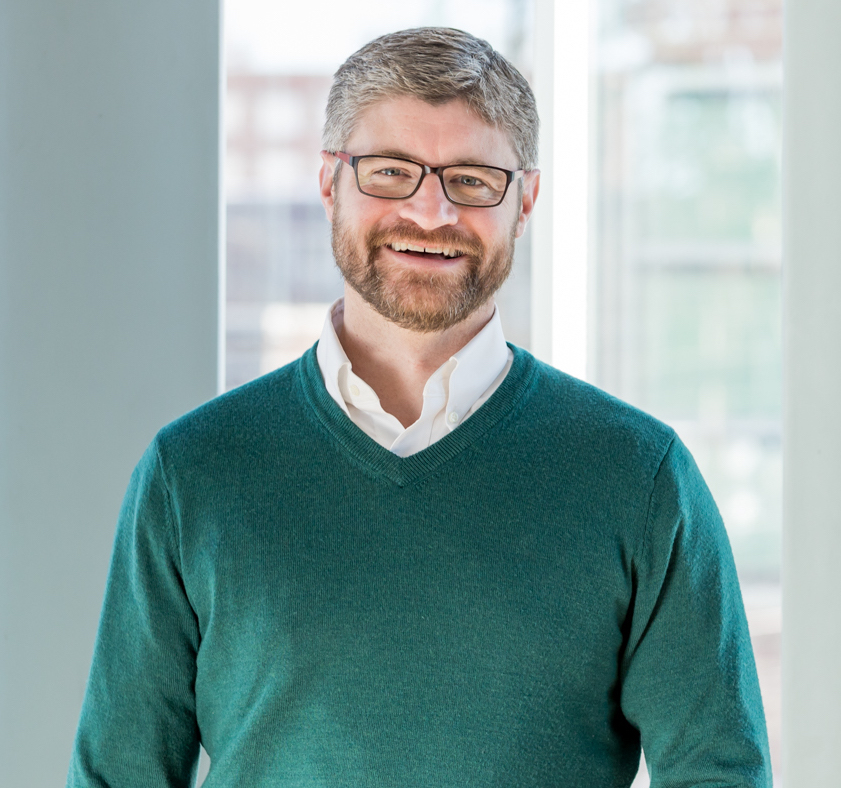 It's often enough to have IT leadership regularly remind clients and stakeholders that data security is top of mind throughout the imaging IT operation. Every so often going face-to-face, even if via web conferencing, can go far.
"People want to have a sense that somebody who's competent and attentive is tuned in to not just security concerns but all IT issues," Willis says.
'It really doesn't take a lot to keep most people confident enough to share data appropriately and trustingly.'
Future Priorities
Not surprisingly, when asked to name imaging IT priorities over the coming year, Canopy survey respondents came back with answers that aligned with their biggest IT and workflow challenges.
One noteworthy difference: Standardization matched workflow as both were named top priorities by 30% of the cohort. Technology and IT support also tied, at 20%.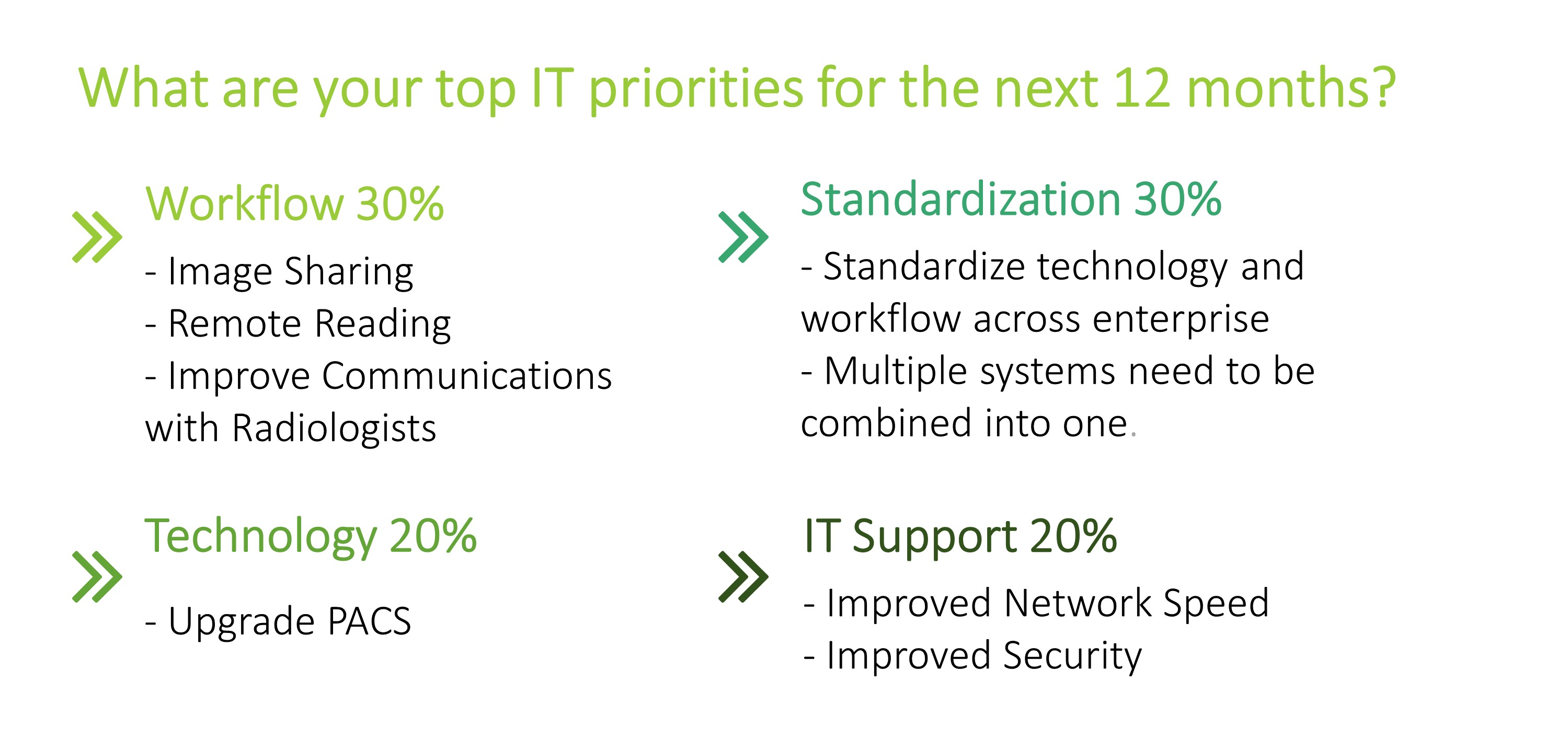 Drilling down into specific projects, hospitals named remote reading, PACS upgrades and systems standardization. Radiology group practices listed standardization and PACS upgrades, and imaging centers indicated they'll be working on moving to unified radiology platforms and improving network speed and security.
Standardization is closely related to workflow optimization, Humphrey says, because the former enables the latter.
"You don't want your radiologists logging in and out of disparate systems, having to remember each program's interfaces," he says. "You want to have everything streamlined in the workflow so the radiologist never has to get out of their flow."
Also high on most Canopy survey respondents' hit lists: supporting teleradiology now that the COVID crisis has launched all of telehealth into hyper drive.
Looking ahead, the American Medical Association has been lobbying hard to maintain the momentum after the pandemic is in the past. In recent materials the AMA spotlights a recent survey conducted by the COVID-19 Healthcare Coalition showing almost 70% of physicians are motivated to increase their use of the technology.
"When the COVID crisis subsides, radiology as a whole will be better positioned to serve patients and referrers 24/7 with anytime, anywhere reads," Humphrey comments. "Of course, that's if radiology IT gets the resources it needs to support the shift."
Next-Gen Radiology AI
Some 82% of respondents to the Canopy survey reported they're not using any AI platforms at all in production reading. Willis is quick to point out, however, that the 18% who said Yes represent a substantial growth spurt. For example, at The Canopy Partners 2019 Imaging Summit, not a single one of around 150 attendees from around the country raised a hand when asked this same question.
"Some said they were doing a pilot or kicking tires, but absolutely no one said were actually using radiology AI in live production," Willis recalls. One year later, the firm's most recent annual survey told a different story.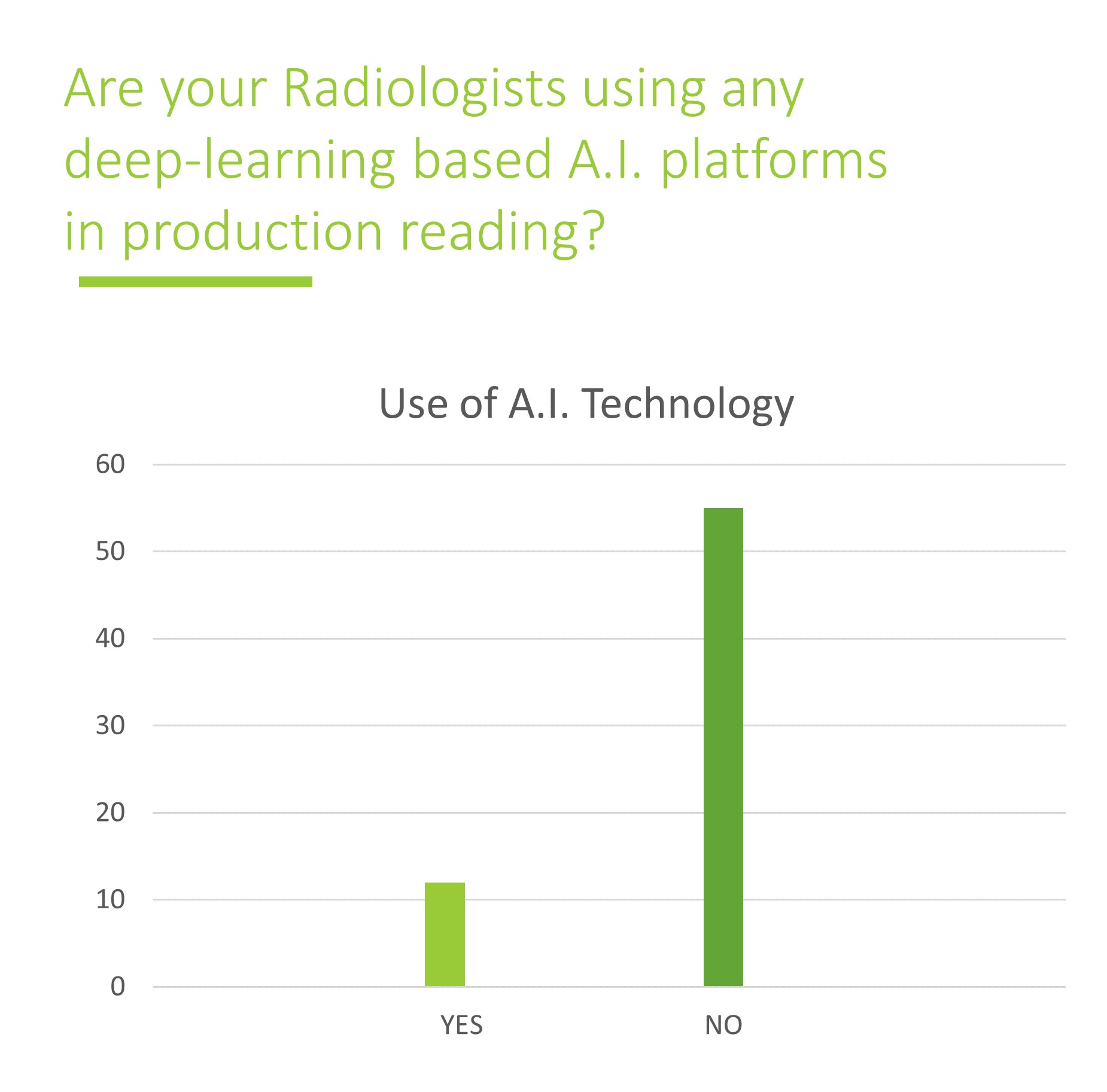 "AI users went from 0% to 18%, and I think you can project that kind of trajectory continuing year by year from here," he says. "The numbers of AI adopters are going to continue growing as more AI solutions are approved by the FDA and prove their value in real-world clinical settings."
At the same time, radiologists are getting comfortable with AI-powered tools while hospitals are seeing they can trust the technology to help improve patient care, clinical outcomes and drive return on investment, Willis suggests. "This is a trend that we believe is going to continue rising over the next three to five years."
Meaningful Alignment
Asked to offer a high-level takeaway on the survey results, Humphrey says the challenges and opportunities before imaging IT operations as of 2021 are best approached with one overarching concept as a guide: practice/hospital alignment.
"Both sides need to hear this," he says. "Collaboration doesn't work well when the hospitals and radiology practices are not working together as true partners. Everyone needs to unite around providing outstanding patient care with utmost efficiency. That's the kind of alignment by which imaging IT can help the specialty of radiology fulfill its role as the doctors' doctors in the U.S. healthcare system."
For a tailored evaluation and situation-specific recommendations, request an imaging IT assessment with Canopy Partners here.
---