Incidentally Yours, Radiologist
Two things are not so incidental about incidental findings, aka "incidentalomas." One is the general way today's radiology community tends to regard anatomic abnormalities detected by chance in the course of looking for something else. This could rightly be called a widespread if unspoken strategy of cautious proactivity. The other is the array of specific approaches for handling such situations that has evolved over the years. Talk to enough radiology practices, and don't be surprised if you find there are as many approaches as there are practices. 
There's no doubt that, when it comes to incidental findings, head-scratching in puzzlement and sometimes head-shaking in consternation have long been common in the radiology community. Over the years, radiologists have addressed and re-addressed a myriad of questions. Should every single incidental finding be reported? If so, how so? In what sorts of cases might the reporting mislead clinicians rather than appropriately guide patient care? 
These kinds of questions will likely linger into the foreseeable future. Either way, some solid answers seem to be emerging to light the way forward. 
Neuroradiologist Jenny Hoang, MD, of Duke University Medical Center in Durham, N.C., suggests best practices may come simply from the greater attention radiologists have been paying to incidental findings over the past five years or so. 
"When I was a junior faculty member, incidental findings were just annoying findings radiologists complained about," she says. "They would report them and leave it up to the referrer to decide on management. Now incidental findings are recognized for commonly leading to unnecessary workup, which translates to increased healthcare expenses and morbidity to the patient."
Meanwhile, mirroring an overall stance now being taken across medicine in general, radiologists have become "much more focused" on looking at incidental findings with patients' best interests as their first priority, adds Pari Pandharipande, MD, MPH, a radiologist subspecialized in abdominal imaging at Massachusetts General Hospital. Pandharipande, who serves as chair of the ACR's Committee on Incidental Findings, points to a patient-centered approach in which "we're assuming responsibility for discovering incidental findings and discerning which findings are important and which are not." 
Thoracic and cardiopulmonary imaging subspecialist Jonathan Chung, MD, of UChicago Medicine concurs. "My mindset used to be, 'I don't want to miss incidental findings, and I want to handle them the right way because I'm afraid of a malpractice suit," he tells RBJ. "However, with experience, it's easier to determine what is clinically relevant and what isn't—and the number-one priority is doing right by the patient rather than anything else." 
Resources for Relief 
The number of incidental findings identified during imaging exams seems to be on the rise. In fact, it's been widely reported in recent years that they turn up in about one-third of CT scans. Some of the uptick stems from increased utilization of cross-sectional imaging exams: The more extensive the exam, the more likely it is to show abnormalities outside the area of concentration. Frequent upgrades to the capabilities of various imaging modalities, coupled with the development of new or enhanced techniques, add fuel to the fire. 
Compounding the problem is the heightened recognition within radiology that some incidentalomas require immediate attention, some deserve no attention at all and many if not most fall somewhere between those two extremes. Overdiagnose or over-recommend, and you may introduce risk of harm and avoidable expense by spurring unnecessary biopsies, surgeries or other interventions. Fail to diagnose or make appropriate recommendations, and you may end up inviting poor patient care.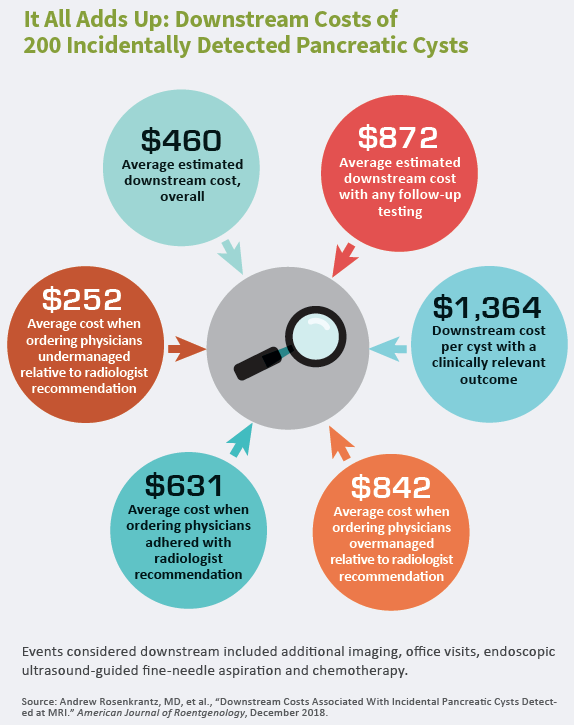 Standardized recommendations for grappling with incidental findings are becoming more widely acknowledged and adopted as a means of addressing these issues. Experts say an increasing number of radiologists now follow the Fleischner Society's guidelines for management of incidental pulmonary nodules. Moreover, the ACR's incidental-findings committee continues to publish evidence-based incidental findings recommendations built on input from clinically active radiologists and contained in white papers published by JACR. 
The college currently has 13 such white papers in its growing collection. One of the most recent, introduced in the August 2017 edition, offers recommendations for managing mediastinal and cardiovascular incidental findings. Previously published resources in this vein cover the management of incidentally found pituitary lesions, pancreatic cysts, adrenal masses, renal masses, liver lesions and adnexal, vascular, splenic, nodal, gallbladder and biliary findings. 
More are on the way, and most include flow charts with detailed recommendations frequently based on the size and characteristics of the lesion in question and, when appropriate, the age of the patient or other factors. For example, in "Managing Incidental Thyroid Nodules Detected on Imaging: White Paper of the ACR Incidental Thyroid Findings Committee," published in February 2015, Hoang and co-authors recommend further evaluation with dedicated thyroid ultrasound for patients younger than 35 years of age whose thyroid nodules were detected via MRI, CT or extrathyroidal ultrasound and measures 1 centimeter or greater, providing there are no suspicious imaging features and the individual has a normal life expectancy. 
The ACR also is in the midst of developing a digital CDS tool, ACR Assist, which will automatically display recommendations for handling incidental findings at the point of image interpretation. According to the college, this will allow reporting systems to recognize when a clinician describes an incidental finding and, once the size of the nodule has been entered, automatically couple that information with the patient's age, medical history and risk factors.
Besides facilitating the management of incidental findings, the ACR white papers—along with ongoing research focused on the magnitude of the problem and sessions on incidental findings at national meetings—have had a significant impact on "the shift in attitude and appreciation of the issue" as a whole, Hoang says.
In fact, some radiologists have begun to formulate additional recommendations to add to those presented in the white papers. Case in point: In a letter to the editor of JACR that appeared in the journal's July 2018 issue, radiologist Robert Harris, MD, of the University of Washington Medical Center and co-authors propose a revision of "Management of Incidental Liver Lesions on CT: A White Paper of the ACR Incidental Findings Committee" (JACR, November 2017). Harris and colleagues suggest that contrast-enhanced ultrasound of the liver be added to the two other approaches—the first being no follow-up or short-term follow-up and the second, imaging with MRI—laid out in the decision tree created by the authors.
Negating Negligence 
Astute observers will note that radiology has lately been evidencing a more assertive attitude than in years past around addressing referring physicians' reluctance or failure to review or acknowledge their reports of incidental findings or their recommendations for next steps. That's no incidental development, as the fallout from allowing referring physicians to ignore reports and recommendations can come back to haunt radiologists and patients alike. 
Along those lines, the renowned medicolegal expert and Chicago-area radiologist Leonard Berlin, MD, describes a case in which an ENT physician ordered a CT of the neck on a patient who had been experiencing issues with his voice. The radiologist who read the study noted in his report that he had not identified any significant abnormalities in the neck; however, he had seen an ill-defined, suspicious lesion in the upper lobe of one of the patient's lungs. He suggested in writing that further studies be conducted to rule out a malignancy, but no follow-up occurred on the ENT's part. 
Eighteen months later, the patient was dead of lung cancer, and his family sued both physicians for having provided negligent care.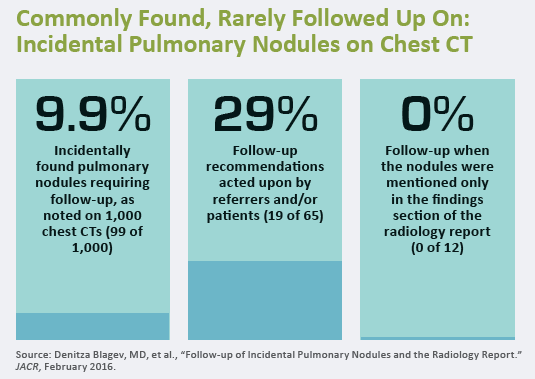 "The ENT's defense was that he hadn't read the portion of the report pertaining to the neck," says Berlin, who teaches at Rush University and the University of Illinois and is a member of the radiology department at Skokie Hospital in Skokie, Ill. Berlin says he wishes all referring clinicians grasped "the importance of reading reports in their entirety to avoid missing important references to incidental findings, as well as the benefi ts of heeding radiologists' recommendations for follow-up." 
While the radiologist in the case above argued that he had "mentioned" the existence of the nodule on the patient's lungs in the report, the court ruled that simply doing so, rather than taking a more proactive stance when informing the ENT of his discovery, constituted negligence on his part.
Berlin has made it a reflex to pick up the phone and call the referring physician whenever he is concerned about an incidental finding. This simple step almost always ensures that the referrer is equipped to act, he says. Such assurance "doesn't happen with reports," Berlin adds, "because although we know they've been received, we can't be sure they've been reviewed in their entirety."
In another example of proactive incidental-findings management, radiologists at NYU Winthrop Hospital in Mineola, N.Y., engaged their clinician colleagues to develop collaborative recommendations for multiple incidental findings and provide standardized recommendations and endorsements from both the radiology department and the relevant clinical specialty. Standardized statements are now placed in radiology reports to promote adherence to the recommended management of incidental findings. 
Danny Kim, MD, chief of the hospital's department of radiology and vice chairman of NYU's department of radiology, cites another benefit to the collaborative recommendations: When confronted with an incidental finding, he refers to the recommendations to find the appropriate recommendation for managing it.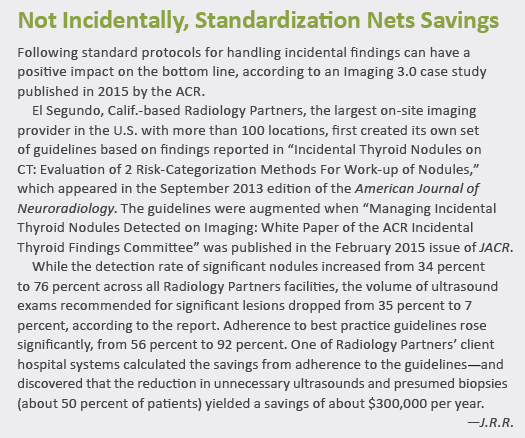 Will AI Help?  
Standardization, effective communication with referring clinicians and promoting adherence to recommendations for addressing (or not addressing) incidental findings will continue to improve the incidental findings management picture, the experts agree. But some believe two new technologies—structured reporting solutions and machine learning/artificial intelligence (AI)—will play an important role here as well.
"When integrated with clinical decision support tools, structured reporting should make it easier for patients with an incidental finding detected by one imaging provider, in a particular geographic location, to receive the same care from an imaging provider in a completely different geographic location," Pandharipande says. 
Harris says he was initially cynical about structured reporting but has changed his mind after more thoroughly considering its merits. He now perceives structured reporting as a perfect complement to standardization in consistency in the way incidental findings are addressed.
Other sources aren't convinced. "I'm not a big supporter," Berlin asserts. "A report should be like a conversation. With structured reporting, something may be left out of that conversation."
As for machine learning and AI, "they have a lot of promise, particularly for helping to detect lesions," according to Chung. Additionally, an AI-based system "could be valuable in looking at a lesion and determining the likelihood that it's a 'bad' one," says Chung, "then fi guring out what to do next—recommend a CT scan, leave it alone, et cetera." These technologies might also assist with clinical workflow, helping to pinpoint emergent cases involving incidental lesions, Chung adds. 
Pandharipande agrees. She foresees AI and machine learning becoming "tremendous assets" to incidental findings management by assisting radiologists in determining which of these findings are important for specific patients. Such technologies, she says, will allow clinicians to "explore data in a way we never have before," with algorithms determining, based on imaging and other information, the level of importance of given findings and reducing the potential for human error in managing them.
"In the years ahead, understanding the clinical outcomes of the natural progression of incidental findings will enable assessment of the appropriateness of the current recommendations and inform future strategies for the management of incidental findings," Kim concludes. "Strong clinical evidence will enable us to optimize management so that we can minimize unnecessary patient anxiety and promote more efficient use of medical imaging."