Go Big or Go Bust? How Less-than-Large Radiology Practices Can Survive the Consolidation Era
Coastal Radiology Associates has spent the better part of seven decades building and expanding its service footprint at four hospitals and four outpatient imaging centers in eastern North Carolina. Its physician-owners treasure their independence and reputation.
In recent years, though, this small multispecialty practice began to feel the ground shift under its feet, quaked by macro forces within imaging and throughout healthcare.
So it was that, in December 2016, Coastal Radiology headed for sturdier ground: The group accepted an offer to become a part of Radiology Partners, one of the nation's largest consolidators of radiology practices.
"We found ourselves working harder and harder, but the amount of money we were spending on administration and IT was just more than we could absorb," recalls Catherine Everett, MD, MBA, president of Coastal Radiology and a veteran of the specialty with more than 40 years of experience. "We exercised our best option."
Hardly a small or mid-sized radiology practice in America today is immune from the pressures of shrinking reimbursement, growing government regulation, rising IT and infrastructure costs, and rampant consolidation of client hospitals. But if more and more independent radiologists find themselves at a disruptive crossroads, the choice does not always boil down to "sell" or "don't sell."
A medley of structures, models and arrangements has emerged, and it's enabling less-than-large practices to find some desirable ground between complete autonomy and forced integration—a sort of "sweet spot" that confers the economies of scale they need to compete against larger foes while maintaining their alignment with client hospitals and healthcare systems.
"If your analysis is purely math, you're missing the big picture," says Eric Friedberg, MD, an assistant professor of radiology at Emory University in Atlanta who serves on the ACR's commission on general, small, emergency and/or rural practice. "These smaller groups and doctors are engaged in their communities and have the ability to potentially impact patient care at a much higher level than if they were part of a large corporate entity where decisions may come down from above."
There is no turning back the tide of acquisitions by big, strong consolidators like Radiology Partners, RadNet, Mednax and SimonMed Imaging, as well as by private equity firms and hospital/health systems, which have amassed networks of hundreds of radiologists at scores of previously freestanding sites across the country.
But as practices on the fence over future direction survey their options, they are also finding diverse models like joint ventures, coalitions of independent radiology practices, and retention of management services organizations that not only provide billing, collection and scheduling but also help to implement detailed quality metrics and IT systems.
"We thought of selling our practice to one of the big firms but realized there were just too many obstacles," says Joseph Racanelli, MD, president of Radiologic Associates in Middletown, N.Y., which formed a joint venture with another group in the Hudson Valley in 2015. "The biggest appeal is that each of us gets to remain autonomous while pooling resources and enjoying economies of scale in areas like purchasing. We're even going ahead with a computer system to help us with metrics, and the cost will be spread around the groups."

Consolidation Acceleration
As other parts in the healthcare sector scramble to achieve the scale and market share critical to long-term survival, radiology finds itself lagging somewhat behind.
That's the assessment of Jeff Swearingen, co-founder and managing director of Edgemont Capital Partners, a New York-based investment banking firm that represents independent physician practices exploring private equity sales or mergers/consolidations. He places radiology in the "relatively early to mid-stages" of the consolidation movement, with approximately 9 percent of the field's 27,000 active practitioners currently under the wings of the large imaging center chains.
This compares to more than 25 percent of emergency medicine physicians and anesthesiologists who are directly employed by large consolidators. Swearingen sees consolidations accelerating within radiology over the next six to seven years, to reach 20 to 25 percent of radiologists being employees of consolidators.
"What we've seen lately is that MACRA and MIPS, implementation of IT system requirements, and reimbursement complexities have broken the backs of a lot of small and mid-size practices," Swearingen says. "They realize it's just not worth it for them to remain independent, and as a result they want to explore these transactions."
Unquestionably, becoming part of a large corporate entity gives struggling private owners and managing partners access to a panoply of badly needed resources, from administrative, recruiting, contracting and nighttime support to advanced clinical technology and best practices sharing.
But as many radiologists see it, that rationale for acquisition comes at a steep price: relinquishing control and decision-making to a remote group of owners/investors whose primary allegiance is not to patients but the bottom line.
"Investors in a public company may not be local," Eric Stern, MD, of the University of Washington and colleagues emphasized in a JACR summary of an open-microphone session held at the ACR's 2017 annual meeting. "Therefore, they are more likely to be agnostic with respect to local health system needs and are less likely to have personal interest in the core values and mission of the organization. … It is crucial that our core values not be compromised for investors."
Still, the pride of being small business owners with unfettered freedom to run their own shops is increasingly taking a back seat to the realities of staying afloat in a field where value is increasingly measured by cost economies.
Which is why many physicians who would have blanched at the notion of handing over the keys of their practice to a large organization 10 or 15 years ago are now seeing things in a different light.
"Like anything in life, there are tradeoffs," concedes Swearingen, whose investment banking firm has completed 15 transactions linking medical specialty practices with large consolidators. "These organizations are relatively big and can be bureaucratic, but they also bring tremendous resources to bear when they're needed. From a clinical standpoint, many of them have no interest in altering the way the physician groups they acquire practice medicine."
Irresistible Economic Incentives
Tower Imaging Medical Group in Los Angeles staunchly resisted the corporate siren call. In May of this year, the 17-member practice, which provides subspecialized imaging services to two hospitals in Greater Los Angeles, became an affiliate member of Strategic Radiology, a national coalition of 23 private radiology practices with more than 1,100 radiologists across 40 states.
"We pride ourselves on being a specialty-based, small boutique group, but these days I don't think that's enough," says Bruce Yawitz, MD, president of Tower Imaging. "We need to have a bigger footprint, and sharing assets with other like-minded groups under the umbrella of Strategic Radiology will provide everything that's important to our hospital partners, while allowing us to maintain the independence we've always cherished."
With hospital-based subspecialty coverage such a vexing issue today for smaller radiology practices, Tower pondered ways it could benefit from its new relationship.
"Piggybacking with Strategic Radiology could provide a new option for 24/7 specialty coverage after 11 p.m., which we currently outsource," Yawitz explains. "And that's a very valuable option to have."
What's also valuable to Tower Imaging is Strategic Radiology's listing as a Patient Safety Organization (PSO) by the federal Agency for Healthcare Research and Quality. This resource will allow Tower Imaging to share quality data with other Strategic Radiology members and benchmark with them in order to meet PSO's goal of improving patient safety and health care quality.

"Having a PSO is important to us because our hospitals will find it very valuable, and that will help to further cement our relationship with them," Yawitz says. Strategic Radiology, for its part, rounds out its PSO program with twice annual quality forums for its members, and reports that many of them develop their own metric-based quality initiatives based on this educational resource.
Resource sharing was a strong driver behind the decision by Radiology Associates in New York's Hudson Valley to form a joint venture with Ramapo Radiology Associates and, subsequently, with a third group.
Joint ventures between compatible radiology practices were once ballyhooed as a sensible way for firms to survive and even thrive in the consolidation era. But the surge of JVs that some anticipated never materialized, perhaps nosed out by other emerging pathways able to lead radiology groups to critical mass.
Still, the JV model has drawn its share of players over the years, and some have forged successful relationships with other small and mid-size groups. According to Radiology Associates president Racanelli, the vast majority of his firm's autonomy has remained intact—including its original name and tax ID—despite the fact the JV bears the name Empire Health Services.
Even more important to Racanelli, though, is the shared part of the arrangement, including implementation of a teleradiology system that provides subspecialty reads around the clock and economies of scale impacting the purchase of malpractice insurance, equipment and other operational items.
"Not only are we saving money, but we're also not letting competition in our backyard," Racanelli tells RBJ. And with two other radiology practices from Pennsylvania and upstate New York expected to populate the joint venture over the next year, he adds, the costs of these shared services will be off set even more.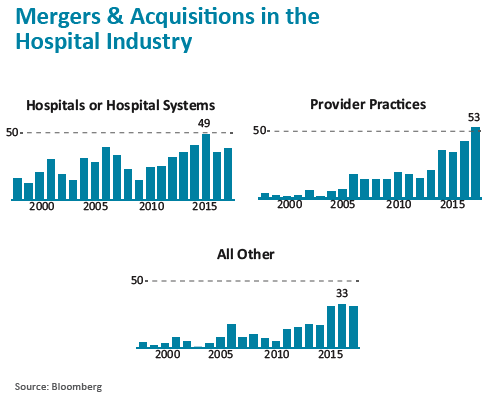 My Hospital, My Adversary?
The fact hospitals have been rushing to merge and consolidate at much faster paces than radiology has created its own daunting set of challenges for the latter.
To be sure, hospitals snapped up by integrated healthcare systems with employed physicians may suddenly regard once-synergistic relationships with their radiology partners as adversarial and demand a majority piece of their business to gain control. Roadblocks also may stand in the way of patient referrals from newly acquired hospitals.
"It doesn't matter how available or able you are," says Friedberg of Emory University. "You can't get these patients in a physician-employed model because the corporate structure only allows them to refer internally. And that leaves a small [radiology] group very vulnerable."
At Coastal Radiology in North Carolina, Everett captures the predicament that often confronts smaller practices when a hospital partner decides to up-size. "If I have this nice little hospital in my radiology group and it suddenly gets acquired by another hospital," she says, "where is my group going to fit in? I know of three radiology groups in Richmond with three different hospitals that merged into one, and the new administration told each of these groups it would only deal with one of them and they would be expected to work out a merger."
Many observers agree that the business outlook for smaller radiology groups will only become more problematic over the next five years as healthcare increasingly obsesses over cost control, tighter reimbursement and growing regulation. And that, in turn, will ratchet up the need for many of these practices to engage in some earnest soul-searching.
"The environment in which we practiced 15 years ago has changed so substantially and the uncertainty has become so enormous that everyone is now thinking: What are our next best steps?" says Friedberg, who served as moderator, along with Everett, at the ACR's 2017 open-mic session. (Their summary ran in the November 2017 edition of JACR as "Navigating the Landscape of Changing Practice Models: Private Practice, Corporate Radiology and Enterprise Systems.")
Practice leaders, Friedberg adds, are "looking for hybrid opportunities that will allow them to retain their value system while staying economically viable."
His advice for managing partners and other practice leaders being whipsawed by the seismic healthcare changes underway?
"They have to do a thorough job of educating themselves on all the various models and options open to them," Friedberg replies, "and then figure out what makes the most sense first and foremost for their patients and for their communities."
Friedberg, a partner in a private radiology group earlier in his career, says he's hopeful the right answers will emerge.