In pursuit of price transparency
When it comes to achieving price transparency for patients who are intent on minimizing out-of-pocket pain for medical services, radiology practices face a stark choice: Innovate or perish.
That's according to Mark Hiatt, MD, who used to practice medicine as a cardiovascular radiologist and now works in the payer sector as executive medical director of Regence BlueCross BlueShield of Utah.
Presenting on price transparency in radiology at RSNA 2017 last fall, Hiatt noted the continuing rise of high-deductible health plans and showed market-research data suggesting that healthcare consumers tend to be very price-sensitive indeed when they're given choices.
What's more, today's imaging consumer is much more likely to be clued in on such long-obscured details as technical vs. professional components in imaging bills. 
"We need to focus on the consumer as an individual like never before, personalize offerings, excel in quality of service and offer more—not fewer—choices with clearly defined prices," Hiatt said after walking attendees through much compelling evidence supporting that conclusion. "Maybe not to the 10th of a cent, like at the gas pump, but certainly to the dollar."
The call is not new. Many employers and most health insurers offer comparison tools, while organizations like Amino, Fair Health Consumer and Healthcare Bluebook promise dynamic health-consumer experiences as well as shopping aids.
The timing, however, may have puzzled some attendees. Why should radiologists feel they have to go all in with price transparency now if they haven't already done so—and it hasn't hurt them yet?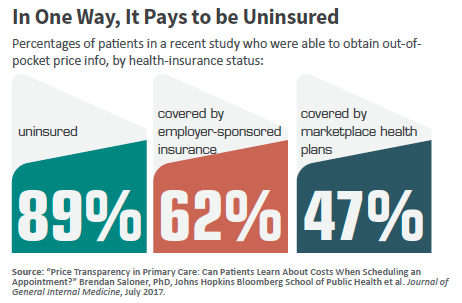 Informed Patients Demand Prepared Providers
"Price transparency is a [goal] that many radiology centers could use to become more efficient and competitive," Hiatt tells RBJ. Just by pursuing transparency and, in the process, researching the competition, "imaging centers can offer a product that's lower in cost and of higher quality," he says. "They can advertise that information to attract patients, letting them know they'll receive a higher level of care at a lower cost."
Of course, out-of-pocket expenses are largely determined by an individual patient's benefits package—or whether they have any insurance at all. And payers are increasingly active when it comes to steering patients to imaging centers based on competitive pricing.
Further, not all healthcare services are shoppable, although imaging procedures generally are, Hiatt points out. In any case, Hiatt maintains, the individual radiologist has an important role to play.
"Radiologists can learn about the imaging costs at their radiology center and use that information to help patients consider different options available to them," Hiatt says. "They also can direct referring physicians to the best modalities needed to make the correct diagnosis." 
"There are a lot of data, information and tools available that should make it not too difficult to determine the price of a procedure," Hiatt adds. "A patient should be able to use this information to make an informed decision."
Competitive Advantage
In a study published in the August 2014 edition of Health Affairs, researchers found that price transparency applied to MRI procedures increased the use of less costly providers and triggered provider competition. En route to arriving at this conclusion, Sze-jung Wu, PhD, a senior research analyst with the Wilmington, Del.-based consultancy HealthCore, and colleagues placed more than 100,000 patients who had at least one outpatient MRI scan in 2010 or 2012 into either an intervention group—those who had membership in a commercial health plan (n = 61,271)—or a reference group of patients without such participation (n = 44,366).
Patients in the intervention group were told of price differences among available MRI facilities and could choose among different providers. These patients saw their costs decline $220 (18.7 percent) per procedure, the authors report. There also was a decrease in the use of hospital-based facilities, from 53 percent in 2010 to 45 percent in 2012.
In addition, the difference in pricing between hospital and nonhospital facilities for the intervention group declined by 30 percent. Nonparticipating members who lived in intervention areas also saw price cuts, which indicated price competition increased among providers.
"The price transparency program resulted in a significant price reduction," Wu et al. write. "This suggests that a price transparency initiative involving direct member outreach with integrated quality information can successfully reduce health care costs."
The Quality Connection
One price-sensitivity variable that has historically been flat but may be ripe for change is the level of motivation patients have to shop around. 
"We have a whole new generation of patients who are tech-savvy" and thus quick to hop online for all manner of buying insights," Hiatt says. Moreover, with high-deductible health plans, "consumers are increasingly incentivized to shop on their own, and they'll find they can achieve considerable savings."
Incentivizing shopping doesn't always produce the intended behavior, at least on a broad scale. The dis-connect partly owes to the fact that, despite widespread efforts to more broadly establish price transparency—and despite the enactment of price transparency laws in several states—patients are not always made aware of specific price transparency initiatives or of particular tools they can use to compare imaging prices.
On top of that, many existing tools lack information about quality.
Those are the key findings of a 2017 study that appeared in the American Journal of Roentgenology. Further complicating the picture, the study's authors wrote, are ambiguous definitions and inconsistent use of the terms cost, charge and paid price.
"All three terms have specific meanings, but appropriate interpretation is contextual and usually depends on whose perspective (e.g., payer, provider, or patient) is considered," wrote Emory University's Gelareh Sadigh, MD, Richard Duszak, Jr., MD, and co-authors.
Sadigh tells RBJ that she strongly believes in the rightness of price transparency. "With the recent changes in types of insurance plans, patients have had to bear a greater portion of the cost of imaging procedures," she says. "Many times, patients do not know their exact costs until they get a bill in the mail. They do not need this additional anxiety or stress, especially if they already have a serious or chronic disease." 
The team undertook the study, she explains, to learn about the extent of price transparency efforts in radiology and how radiologists can help promote transparency.
Please Don't Confuse the Patients
Duszak points to the confusion that often vexes even fairly well informed patients. "Under the Affordable Care Act, more people have insurance," he says. "But it's inaccurate to assume that having insurance means taking on no financial responsibility." Yet this is a common misperception, he says, not least among the many patients who select lower-premium plans that have higher deductibles and co-pays.
The complexity of the negotiated contract between an individual radiology provider and an insurance company also necessitates the need for price transparency, Sadig and Duszak emphasize. They note that Emory's radiology department reaches out to patients before scheduled to undergo an imaging procedure, helping them determine what their out-of-pocket cost will be.
In conducting their research, Sadigh, Duszak and their fellow researchers found that many price transparency tools lacked information regarding quality. Such shortcomings could result in patients picking imaging centers that keep their costs down by using older equipment and cutting other corners.
"What is needed is information on the age of the equipment, the radiation dosage and the quality of the images, as well as patient satisfaction," Sadigh says.
Both believe, as Hiatt does, that given the high costs associated with many imaging services, radiologists should be aware of efforts to make pricing transparent—or at least more so than in the past.
"We need to be more engaged with patients on this," Sadigh says.
Duszak adds that it's important to determine not only who is using the tools, but also why they did or did not do so.
Transparency Today
"It's a complicated, daunting process that many people may simply turn off," Duszak says. "Almost all available [price transparency] tools are developed by healthcare stakeholders. They're not necessarily patient-centric and user-friendly." Properly using these tools "entails a lot of work, and we're asking people to do a lot when they may be experiencing stress or pain from chronic illness or disease and not feeling the greatest."
Such awareness of the patient's real-world experience as smart healthcare consumers is critical to informing radiology practices on how best to help propel transparency trend—and, in the process, solidify their own strength in their respective markets.
As Hiatt put it at RSNA 2017: "With the new consumer-centric reality, increasingly we are not going to market from business to business, from health plans to employer groups. Health services are increasingly going to be marketed directly from the health plan to the consumer."
"Traits of this new consumer-centric model will include increased choices and greater personal responsibility," Hiatt added. "Consumers are going to either know that price or demand to know that price."