Make Way for the Millennials—or Else
They are the first apostles of the digital age, young adults wired to a seamless world of always-on smartphones, mobile devices and social media as the preferred—some would say only—way of communicating. Given this, it's no surprise that directors of radiology residency programs are reworking longstanding methods of recruiting and training. 
After all, the competition is considerable. Medical specialties across the board are working hard to bring millennials, aka "Generation Y," into the fold. Or deeper in: The oldest are now 35 to 38 and already moving into leadership positions.
Those who doubt this generation's clout might consider that, at 73 million strong (U.S. Census Bureau), it has surpassed its predecessor peer group, Generation X, as the largest cohort in the U.S. workforce.
But here's an even more resounding wakeup call for any employer who pushes back on change. According to numerous surveys and studies, a strong majority of millennials—with their (arguably undeserved) reputation for commitment aversions, electronics dependencies and fl eeting attention spans—expect to stay in a job for fewer than three years. 
Of course, these studies and their resulting conclusions have been disputed. But even if the perceptions and projections are off the bullseye, millennials are challenging radiology to adjust now or struggle to remain relevant later. 
"Gone are the days when you could get up and lecture to a trainee for 45 minutes on a topic," explains Mary Scanlon, MD, a Penn Medicine neuroradiologist in Philadelphia who serves the Perelman School of Medicine's radiology department as vice chair of education and residency program director. "I tell our faculty that you need to engage a trainee at least every 15 minutes. If you don't, you've lost your audience."
The message has taken hold in many academic medical centers where the time-worn didactic lecture has been supplanted by a vibrant and blended educational format featuring the flipped classroom, podcasts, audience-response systems, interactive case-based learning and continuous feedback. 
"It's really about the need to be involved in active critical thinking, rather than being spoon-fed information and expected to retain it," says Jawad Hussain, MD, a millennial radiologist who joined 32-physician Commonwealth Radiology in Virginia in 2018. "It's taking a case and going through the mental exercise of understanding what the diagnosis is when you look at a scan, which is very different from someone telling you these are the five things you need to know."
By no coincidence, Hussain found the most impactful part of his radiology residency at Beth Israel Deaconess Medical Center in Boston the overnight reads for which he was responsible with no attending backup. 
"This hands-off approach allowed us to interpret studies independently and make the kind of pressure decisions in the middle of the night that determined whether or not a patient went to the operating room," Hussain says. "That was a big deal, and it allowed us to grow up and drop our training wheels."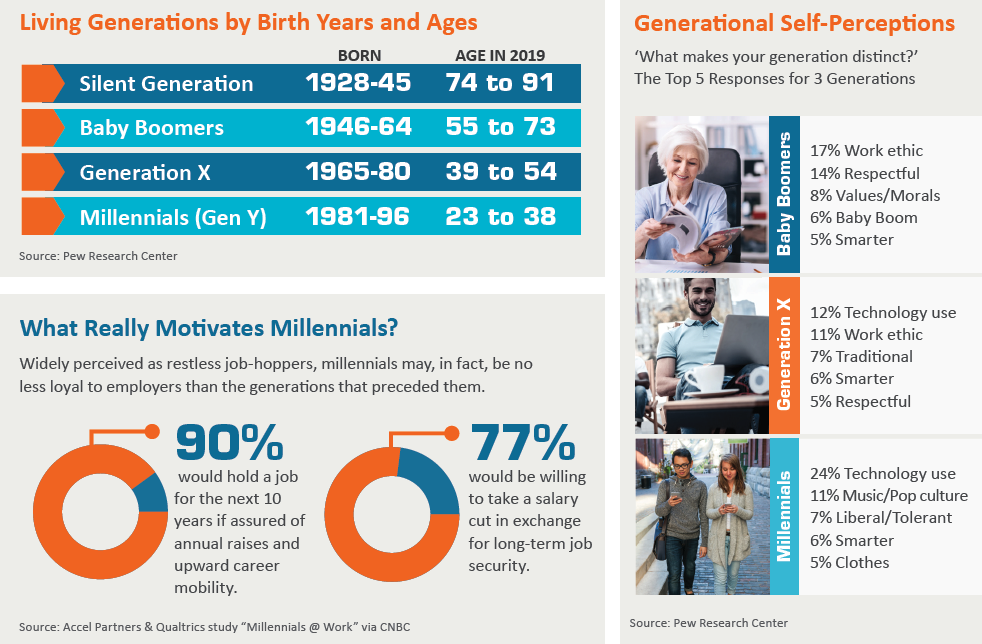 Autodidact's Delight
To capture the attention of millennials, instructors must demonstrate the relevance of the information they're disseminating, maintains Ana Lourenco, MD, of Rhode Island Medical Imaging and Brown University in Providence. 
"Oftentimes a clinical scenario or a missed quality-assurance case can provide an effective hook for the start of a presentation," she says. "Providing didactic information mixed with audience participation may also increase the student's retention of information."
To enhance the experience, Lourenco strongly favors audiovisual support but cautions if the imagery and Power Point slides have a "Jurassic era" feel to them. Miss this heads-up, and Gen-Y learners weaned on hyperkinetic video games and computer-generated visual effects will tune out. 
Meanwhile, the flipped classroom, a teaching model in which students prepare autodidactically—on their own time and in their own space—before using traditional in-class pedagogy to sharpen their critical thinking, is becoming a go-to teaching vector into the minds of millennials across postgraduate education in the U.S. 
This approach "allows us to harness the fact this generation of learners is used to acquiring information and knowledge through social media platforms and mobile devices, often while on the go," says Kate Hanneman, MD, an assistant professor at the University of Toronto who is actively involved in teaching residents and medical students at Toronto General Hospital. 
A millennial herself, Hanneman has taken creative license to energize the flipped classroom by uploading instructional videos from YouTube or by creating her own through a variety of readily accessible software programs and interactive tools, then providing the link to her students.
"I'd expect them to watch in advance a video I posted on cardiac imaging nomenclature, for example, and when they come to rounds I would ask them to apply the information from the video to actual cases which I present," Hanneman explains. The beauty of this format, she says, is that it allows her to skip the boring boilerplate material and "dwell on higher-level educational opportunities" during her hourlong sessions with residents.
Adventures in Excelling
Hospital affiliates of the University of Pennsylvania also have started to sprinkle pre-learning, or "micro learning," videos into their training curriculum. Penn Medicine educators make these resources available through the websites of professional organizations such as the Society of Interventional Radiology and the Society of Skeletal Radiology. 
"For certain lectures we tell our trainees, 'here's a 10-minute video we suggest you watch the night before while you're on your exercise machine that will prepare you for cases you'll see the next day,'" says Scanlon. 
Another strategy her instructors have found helpful is allowing students to learn from one another during in-class sessions through a program dubbed "pair-share." This structure places trainees together in small groups for the first 15 minutes to, say, label anatomical structures and fill out worksheets. When the class reconvenes, members apply their fresh learnings to instructor-provided cases. 
Playing off millennials' penchant for self-direction, Scanlon's trainers created "Pick Your Adventure." As part of this program, one physician-instructor recently posted, in advance, four topics relating to pulmonary embolic disease. Students were then offered a chance to select the topic they most wanted to hear about in class. 
Constantly looking for ways to enliven the multimedia experience, Scanlon's faculty also began using Doceri, an interactive whiteboard app that frees instructors from the podium by allowing them to intermingle with students, viewing and controlling the classroom screen—including videos, slides and websites—directly from their iPad.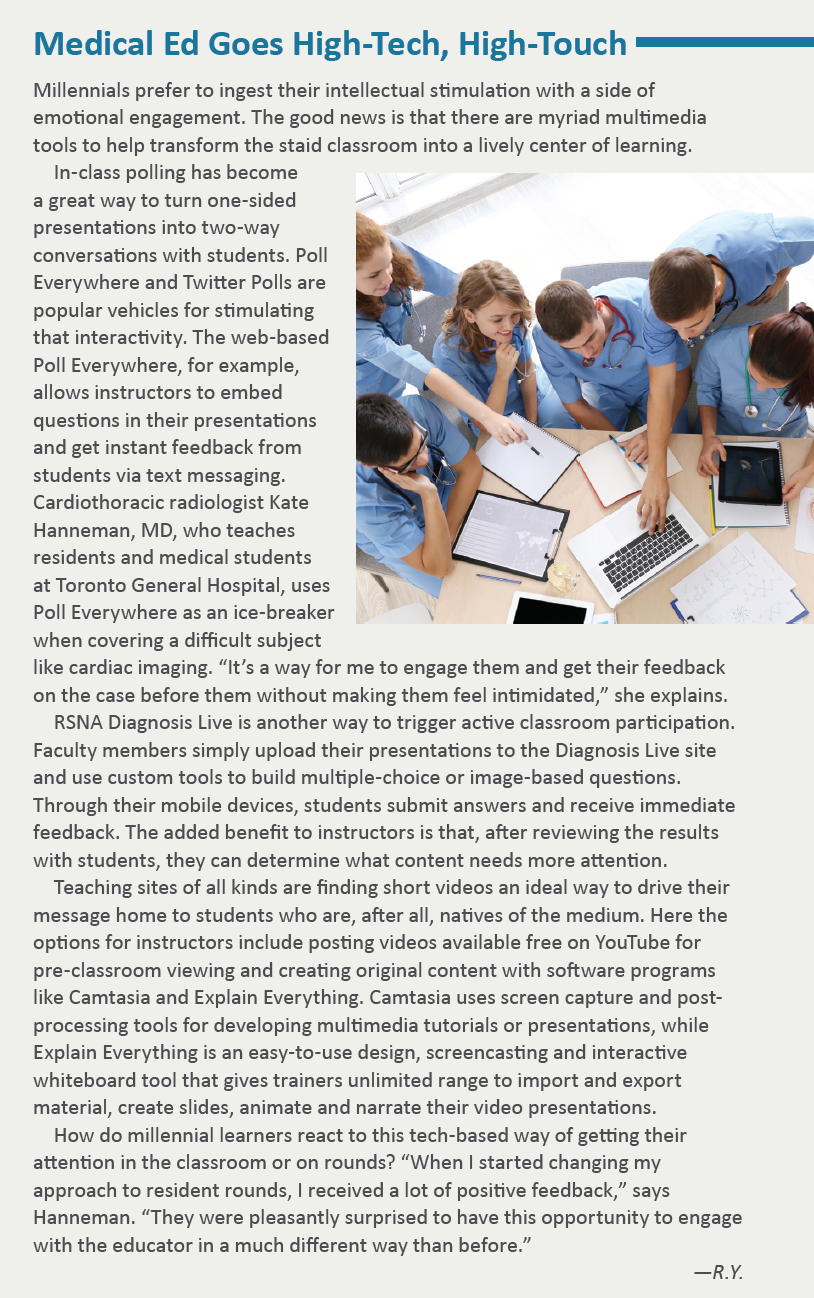 Recognition Rethought
Any employer fixed on meeting the needs of millennials would do well to read a study published by Business Horizons in 2017 titled "Managing Millennials: Embracing Generational Differences." Co-author Karen Cravens, PhD, CPA, of the University of Tulsa tells RBJ the most telling finding to emerge from the research was this: Even millennials who like or even love their workplaces tend to avoid getting to where they feel "tied down" to the organization. 
"And since they don't have that commitment, they need to see how their work supports the organizational goals," Cravens says. This means they need to hear "not just that they're doing a good job but also what they're doing a good job in," Cravens adds. In some industries, this could take the shape of helping uncover a promising new market opportunity or brainstorming a far-sighted strategic plan. In healthcare, it could mean improving patient outcomes.
This signature need for affirmation can be met in part by retooling the performance evaluation process that has become a staple for virtually every organization. According to the study by Cravens and colleagues, this process should be "modified from a general measure of performance across basic activities to focus on specific goals and tasks related to organizational objectives." 
Just as important is the need to keep the feedback loop open and constantly flowing, which stands in sharp contrast to the traditional annual or quarterly performance evaluation. 
"Taking the time to acknowledge a job well done is imperative when working with millennials, who often cite the lack of acknowledgment and appreciation as reasons for being unhappy with or leaving a job," Lourenco says. "Unfortunately, in medicine we are often prompt to review shortcomings but rarely pause to acknowledge a job well done."
Lourenco also points to Gen Y's strong preference for working as part of a team, adding that practices that encourage young radiologists to comfortably seek a colleague's opinion on difficult cases help create an environment stacked in favor of job satisfaction and retention. 
Millennial radiologist Hussain agrees. "We're seeing that radiologists are no longer relegated to the back room where they interpret studies in a vacuum," he says. "Frequently our clinician colleagues will come to the reading room for our opinions, and residents are an integral part of that process because they are often on the front lines rendering opinions and discussing with clinicians how to manage particular patients."
What Work Matters Most? 
It stands to reason that, going forward, cross-generational teamwork can be fostered easily enough in radiology by involving millennials on tumor boards and in multidisciplinary conferences—especially those that emphasize the importance of imaging and image-guided procedures as part of the patient's clinical care.  Some practices go the extra mile to build esprit de corps by giving new recruits access to high-level organizational information, then following through by not just welcoming their ideas for change and improvement but also evaluating and implementing the best suggestions.  
Still other practices cater to millennials' passion for "work that matters." What some have found meaningful is taking the time to reflect with fledgling radiologists on the many lives they touch in the course of a day through the images they interpret. "These critical insights can end up buried in a long worklist on a busy day, especially for those radiologists not routinely interacting with patients," says Lourenco.
As radiology searches for ways to integrate the burgeoning and diversely incentivized wave of millennials, the profession's leaders can learn much from other industries, such as banking and accounting, which have undertaken their own anthropologic-type studies. Citigroup, for example, created a program to recruit and retain millennials through more rapid paths to promotion, extended leaves for charitable work and the chance to work on a micro-finance project in Kenya for four weeks. And PricewaterhouseCoopers is responding to the growing body of evidence suggesting that millennials respond energetically to performance measures based on the difference they make rather than the hours they log.
This demographic shift in work-place attitudes has not gone unnoticed in some radiology quarters. As Lourenco discovered in her study on millennials, work-life balance has been replaced by "work-life integration" for many Gen Y-ers. Having grown up with consumer technologies that facilitate substantive contributions from nearly anywhere—remotely reviewing a consult on a smartphone or tablet is only one example—millennials as a group are much more focused on getting the work done than on where or when it gets done. 
In light of this widespread change in workplace mindset, radiology practices need to reconsider their staffing models, says Lourenco, adding that it's not enough to offer fulltime and part-time work. "To retain millennial talent," Lourenco says, "groups may need to consider staggered shifts, remote reading, job sharing and other nontraditional options."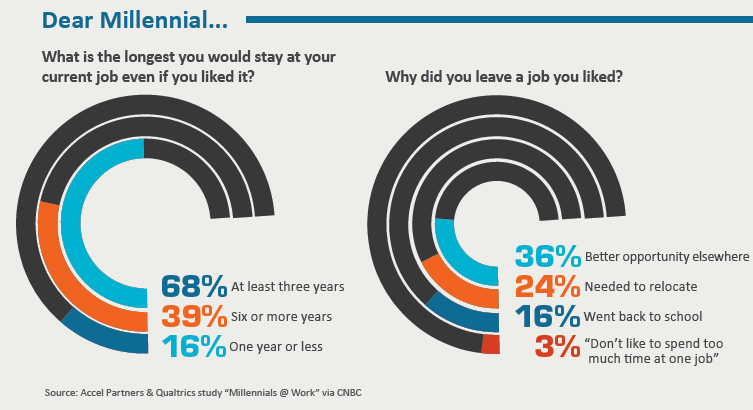 To Pass the Torch  
As Lourenco and others have emphasized, it's time for the healthcare industry to expand the drive toward patient centricity to include employee-centric thinking as well. By becoming attuned to the needs of the most technologically advanced and ethnically diverse generation in American history, the experts seem to agree, radiology practices may find valuable opportunities to gain competitive advantage. 
"This age group is really open to sharing new ideas and new approaches and is not hampered by an attitude of, 'OK, this is the way things have always been done,'" says Cravens. "Given the opportunity to unleash their creativity, they can truly be trailblazers."
It's clear that cultivation must begin at the training level, which puts obvious pressure on academic centers to develop the educational talent and training resources to challenge and motivate Gen-Y learners. Harvard Medical School, for its part, selects a small number of its educators to perfect their skills and techniques in such areas as holding an audience captive and zeroing in on information that students most want and need. 
Hussain gives a thumbs-up to the far-sighted wisdom of this approach, noting that an instructor's degrees, years of experience and record of accomplishments don't guarantee strong communications skills. 
And effective communication in medical training is "an art and science in itself," he says. "It's a discipline that businesses need to master, because they'll only be as successful with their productivity, relevance and legacy as the next generation of radiologists coming up."