Politically Energized With Places to Go: 5 Advocacy Hot Buttons for Radiology
Radiologists have become increasingly active in political advocacy over the past several years, and they're not being quiet about it. To wit: Each year the American College of Radiology hosts Hill Day, sending 500 or so rads to Washington, D.C., to lobby members of Congress on issues that affect the profession and its patients. Meanwhile the college's Radiology Political Action Committee (RADPAC) has grown from modest beginnings in 1999 to become the third largest medical specialty PAC as of 2016, according to the committee's 2017 annual report. 
More striking still, radiologists made more than $16 million in federal political contributions between 2003 and 2016. Year by year over that span, total annual donations from self-identified radiologists grew from $351,251 to $1.1 million. 
That's according to a study published in JACR in June. Arguably the researchers' most encouraging finding was that, for all the stepped-up political activity, radiologists are proving determinedly nonpartisan. 
"We observed that radiologists making election contributions overwhelmingly supported their profession rather than any other individual cause, organization or candidate," write Amy Patel, MD, and colleagues. The team found that 7,515 radiologists or 23 percent of the country's self-identified radiologists, made at least one contribution over the 13-year period under review—and most of those 16 million-plus dollars went to RADPAC (or, in a few cases, another PAC) rather than to individual candidates (74.6 percent versus 25.4 percent). 
"Our results portray a specialty that is far more unified than divided in its political advocacy," write Patel et al. "Indeed, given the 3-fold increase in radiologists' contributions to RADPAC in recent years, the specialty seems increasingly aligned in its specialty-first prioritization."
The even-handedness bodes well for radiology's evolving role in the life of the body politic. But for what particular causes, interests or issues are radiologists seeking to sway opinion? A look at five advocacy "hot buttons" on the minds of the profession's thought leaders reveals radiology's political priorities.

Advocacy Hot Button #1: 
Having a Say on Clinical Decision Support
Radiology got a break when CMS pushed back the start date of Medicare's appropriate-use criteria (AUC) program from New Year's Day of 2018 to that same date in 2020. At the time, the agency said its aim was to give providers time to get acclimated to the program, which requires the documented use of clinical decision support (CDS) systems whenever advanced outpatient imaging is ordered for Medicare patients.
The breathing room is well and good as far as it goes, but some feel that radiology constituencies need to push for more. 
"The extra time to start applying CDS to ensure appropriate use is nice, but CMS is still talking around at least one important detail," says Elisabeth Quam, executive director of the CDI Quality Institute, which is part of the Minnesota-based Center for Diagnostic Imaging. "We still don't know how documentation that appropriate-use criteria were really applied will 'travel' from consulting physicians' offices to imaging providers and, more importantly, to Medicare so as to prove that CDS really came into play during the imaging-order process."
Absent this check on process, imaging providers' payments from CMS "could be at stake," says Quam, who also serves as vice president of the Imaging for a Cause Foundation, which works to expand access to imaging for uninsured and financially vulnerable patients. "Radiology needs to advocate for clarity here."
Cynthia Moran, the ACR's executive vice president for government relations, economics and health policy, points to a broader avenue on the CDS route. She urges the radiology community to devote the bulk of its advocacy energy to preparing referral sources.
"Our ability to predict which legislative and regulatory actions will have an impact on us, and what that impact will be, have been well tested over the past few years, and we haven't always been right," Moran tells RBJ. "However, there is no question that the executive branch of the government will be building out appropriateness criteria even more. With this in mind, imaging providers should be spending the extra time not only testing their own systems but also making certain that ordering providers understand the critical nature of CDS adherence."
Moran says radiologists who minimize the importance of appropriate-use criteria do a disservice to themselves and their fellow practitioners. "Appropriate-use criteria are our protection against the enactment of thoughtless, really dumb legislative and regulatory actions," she says. "If we can, through the criteria, say that our utilization is accurate—that we are performing the right study on the right patient for the right reason—we can avoid government efforts to take a meat ax to our reimbursements and force us to live with painful reimbursement cuts."
January of 2020 is "just around the corner," Moran adds. "Waiting is not a good idea."
Advocacy Hot Button #2:
Advancing on Interoperability 
In theory, MACRA and the 21st Century Cures Act should work together to remove most or all roadblocks standing between healthcare providers, including radiologists, and health IT interoperability. In reality, the situation on the ground is often at variance with the scenario on the table.
"Primarily for business reasons, different providers and health systems engage in practices that impinge upon the exchange of images, interpretations and orders," Quam points out. In so doing, some are sloughing off their responsibility to help U.S. healthcare take the promised land of interoperability, where IT systems readily communicate with one another across all lines of separation. The failure to get past competing and into collaborating "can have a very negative impact on patient care," Quam says. "It's nothing short of appalling." 
Along with frequently forcing patients to tote around CDs to ensure the continuity of their own care, the fixable lack of interoperability also enables provider orgs to electronically thwart other providers from connecting to receive imaging orders and reciprocate by forwarding radiology reports. 
"Sometimes requests to interface are postponed based on supposed 'workload priorities,'" Quam explains. "Sometimes those who are trying to avoid interoperability say they have security or privacy concerns—even if the requesting [party] complies with HIPAA and industry-standard practices. Sometimes it's through commercially unreasonable financial requirements. But again, whatever it is, it is a significant problem."
To fight for what's right, CDI is urging radiologists and health systems to make their voices heard by legislators. Quam says federal policies should spell out the circumstances under which one provider entity's request for an interface between its system(s) and those of another entity can be considered reasonable. 
"Advocating for bi-directional interoperability is the only way to give patients the power to choose providers based on considerations of cost, convenience and quality," Quam says, "and to not get trapped in certain providers' webs." 
Advocacy Hot Button # 3:
Carrying Radiologist Assistants and CTC Into the End Zone
The ACR is looking for a few good advocates to help push through two pending legislative items. One is the Medicare Access to Radiology Care Act of 2017, aka "MARCA" (not MACRA), which was introduced in the Senate as S. 769 and in the House as H.R. 1904. The other is H.R. 1298, the CT Colonography (CTC) Screening for Colorectal Cancer Act. 
These bills comprised the crux of the agenda at the ACR's aforementioned Hill Day, held in May as part of the college's annual meeting. If they can get the nudge they need to become laws, Medicare will have to cover CTC—the agency currently only does so when optical colonoscopy is inconclusive—and recognize radiologist assistants (RAs) as Medicare non-physician providers.
"The ACR has long supported Medicare coverage for CTC and is committed to ensuring Medicare benefi ciaries have access to this effective, non-invasive screening test," the college states on its website. 
On the MARCA legislation, ACR explains that the bill seeks to amend the Medicare statute to recognize RAs as non-physician Medicare providers and to "align Medicare reimbursement policy with state law. If adopted, this change will allow radiologists to devote more focused time reviewing and interpreting complex medical images." 
The legislation also has the backing of the American Registry of Radiologic Technologists (ARRT), the American Society of Radiologic Technologists (ASRT) and the Society for Radiology Physician Extenders (SRPE). 
"Without Medicare's recognition of the RA, the profession is in peril," ASRT states. "As a direct result of Medicare's policy, RAs are losing their jobs and universities are on the verge of suspending or terminating their RA training programs." 
ACR, ASRT and SRPE all have advocacy sections on their websites facilitating outreach to legislators on MARCA.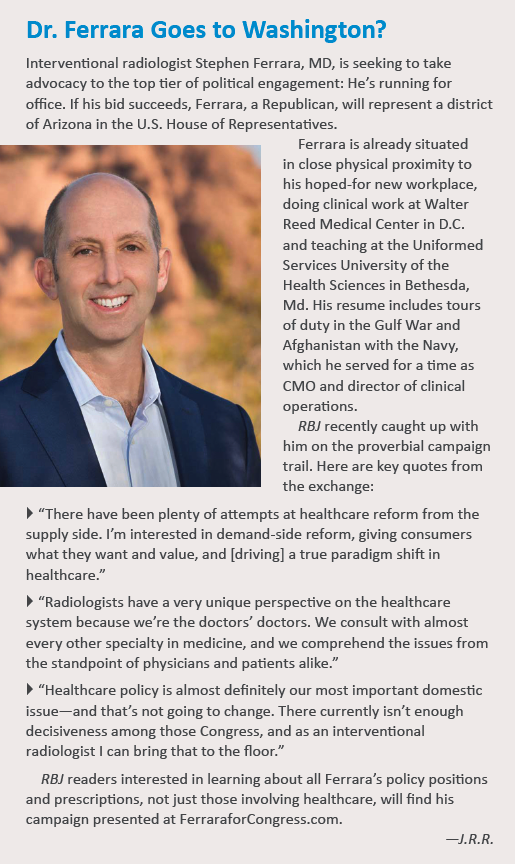 Advocacy Hot Button #4:
Getting Radiologists Fairly and Properly Paid 
The Medicare Payment Advisory Commission (MedPAC) remains bullish on the idea of bumping up payments to primary care providers for service to Medicare patients—at the expense of imaging providers.
In its most recent report to Congress, issued this past March, the commission suggested that the funds needed to award primary care providers additional per-beneficiary payments come from reductions in payments for non-primary care services, including—but not limited to—imaging. 
The rationale for this suggestion: concern among MedPAC commissioners that primary care physicians to treat Medicare patients will be hard to find if these clinicians don't see a raise in their pay.
Neither Congress nor CMS has decided to implement this recommendation. "That's why now is the time for advocacy regarding the training and requirements of a radiologist," Quam says. "Once a reimbursement change is made by Congress, there usually is nothing that can be done to reverse it. Time is of the essence."
Quam adds that the radiology community cannot afford to remain mum on the inappropriateness of Med-PAC's proposal. And that's not only because it doesn't take into account training and requirements but also because so many commercial payers base their reimbursements on what Medicare allows. 
"It's critical to advocate for fair reimbursement for imaging services to both Medicare and non-Medicare patients," Quam says, underscoring the additional pressure exerted by radiology's increasing dependence on technology in this era of AI and 3D. 
Advocacy Hot Button #5:
Keeping All Eyes Focused on Evidence-based Imaging   
"Whether you're talking about situations like Anthem and its newest approach to reimbursement for MRI and CT scans or legislative and regulatory actions, there needs to be a move away from advocating for laws and policies based on anecdotal evidence." The time has come to base advocacy on "credible, evidence-based, easily generalized and reproducible data."
So believes radiologist Richard Duszak, Jr., MD, vice chair for health policy and practice in his de-partment at Emory University and senior research fellow at the Harvey L. Neiman Health Policy Institute.
In a nutshell, that means embracing the advocacy opportunities on offer thanks to Big Data, he suggests.
Radiologists can and should also leverage Big Data not only when advocating for their profession but also when substantiating or refuting claims and developing more realistic cost structures, Duszak says. He gives as an example creating a screening mammography payment bundle that takes into account all downstream costs. Utilizing historical data, Duszak says, the number of ultrasounds and MRIs that will likely be necessary for such a bundle. Armed with real-world numbers, bundle developers can build data-based cost structures. 
The Neiman organization has done much research to create a solid foundation from which evidence-based imaging policies can be pursued. Its Neiman Almanac, for example, aggregates multiple years of data from varying sources to create dynamic tables laying out state and national figures pertaining to volume of, spending on, access to, and human resources involved in providing radiology services. 
Earlier this year, Duszak reflected on his work in patient advocacy and policy wonkery for the ACR Bulletin. He told how working in the early '90s with the college's lead lobbyist at the time showed him that "credibility, reputation and relationship-building were key to successful advocacy."
"The only thing that I've added to that list over time from other work with the ACR—founding the Neiman Institute—is making sure that 'asks' are evidence-based whenever possible," Duszak says in the Q&A. "Evidence-based advocacy has translational health policy research at its very core and represents a huge and ongoing opportunity."
So too radiologists' increasing activity in the broad sphere of advocacy. Consider that, in the Patel study (of which Duszak was the senior author), less than a quarter of rads' political contributions from 2003 to 2016 were partisan: Only 14.4 percent of those dollars went to Republicans and just 8.4 percent to Democrats. 
"Importantly, despite increasing political partisanship nationally, we found that radiologists' nonpartisan contributions steadily increased over time. In contrast, radiologists' party-targeted contributions remained relatively flat," the authors write. "This all suggests that radiologists overall prioritize profession over party affiliation when making political contributions."
It also suggests that radiology has a bright future championing consequential causes at a crucial time in the history of the profession.