COVID or Not, Big Money is Buying Radiology Practices. Should Yours Be Selling?
As private medical practices continue feeling the squeeze of consolidation across U.S. healthcare, many radiology groups are considering acquisition offers from physician practice management companies (PPMCs). Any number of these suitors are investor-owned or -backed, publicly traded or otherwise ROI-focused.
More than a few financially fretful practices have already said "Yes" to the PPMC option—and that was before COVID-19 turned everyone's world upside-down. Now who knows how many others will follow?  
In exchange for their sacrifice of outright local ownership, the selling groups gain access to various technological, managerial and analytical resources, and on a scale they'd never be able to afford on their own. They also instantly obtain the larger footprint without which long-term survival would be imperiled in the value-based healthcare economy.
At the same time, however, any loss of autonomy can strike a serious blow to the independent spirit that drove many radiologists to join—or lead—private practices in the first place.
Muddying the waters is the strategic coyness the buyers often employ when describing themselves on the front end: We're owned by clinically focused physicians but supported by fiscally savvy financiers. Or vice versa.
Facing a proposition from a management player so artfully positioned, a practice sweating the balance sheets may not pause long enough to appraise how much control its leaders might be obliged to cede at some point down the road. Experience a couple of consecutive bearish quarters, and corporate leadership may call for closer oversight—aka micromanagement—of that practice.
Meanwhile the present waves of consolidation are coming at a time when Congress is eyeballing private equity's role in spawning surprise medical bills.
In this unstable climate, the various potential buy/sell scenarios may be as numerous as the buyers, sellers, never-sellers and combinations thereof. RBJ spoke with experts from all those corners, and others, in search of a clearer picture of what's going on in this foggy field of deals. The interviews took place before the COVID-19 outbreak became a public-health crisis, but the principles have only become more pressing as the situation has unfolded.  
Power Players
"It's a mixed bag, but different models with different levels of investor involvement are catching on," says W. Kenneth Davis Jr., JD, a partner in the Chicago office of law firm Katten Muchin Rosenman. Davis has worked with multiple radiology practices on deals with PPMCs, but he calls himself "agnostic" as to whether any given practice should or shouldn't forge ahead with one of these arrangements.
Davis suggests the management companies can be categorized into two main buckets. One comprises radiology-focused PPMCs run by radiologists who commonly work in partnership with finance firms. This grouping includes such well-known names as El Segundo, Calif.-based Radiology Partners (founded with a $60 million capital investment from venture capital firm New Enterprise Associates); US Radiology Specialists (launched as a joint venture of Charlotte Radiology in North Carolina and Manhattan/San Fran technology/healthcare investment firm Welsh, Carson, Anderson & Stowe); and LucidHealth (founded in part with funds from private equity investment firm Excellere Partners).
The other bucket contains multispecialty PPMCs whose interests include but aren't exclusive to radiology. Examples include Envision Radiology Partners, which is part of Envision Healthcare, and Mednax Radiology Solutions, part of Mednax Inc. Both of these parent companies are publicly traded, and both use an employment model for their physicians.
And then there are the buckets that defy easy labeling. An example is a relatively new player, Collaborative Imaging, a national radiologist-owned alliance founded in 2018. Collaborative currently has backing from capital investors at Goldman Sachs who represent less than 12% of its ownership. According to Collaborative CEO Dhruv Chopra, MBA, the alliance's plan is to decrease investor participation as new groups come aboard and, eventually, to limit investors' equity position to less than 2%.
More experimental management structures are likely to follow. Davis says he's "aware of several companies that are in the very early stages of evaluating the PPMC space." 
Rumors vs. Real Life
Plenty of practice leaders have their reasons for taking the PPMC plunge. Heads of long-successful groups, for example, can't be faulted for seeing an infusion of capital as the means for an overdue growth spurt.
As Davis puts it, leaders of small- to mid-size groups "look at the infrastructure their practices need in order to grow—PACS, RIS, EHR, revenue cycle management functions—and ask themselves, 'Hey, are we really going to do this on our own? What's it going to cost? Do we truly want to spend millions of dollars on [technology], or are we just better off selling to a PPMC?'"
Not infrequently, the dollar figures don't drive the initial consideration to sell but, instead, end up pushing the decision over the finish line, Davis has observed. "The money looks especially good to older radiologists who are nearing retirement age," he says. Hefty multiples on deals, along with PPMCs' willingness to sweeten the pot if prospects don't bite quickly, are equally tough for "silverbacks" to resist.
And it's not hard to find leaders of formerly independent groups who are pleased about life with a PPMC. 
"Our investor partners have brought financial and management expertise along with their capital," Robert Mittl Jr., MD, president of Charlotte Radiology, tells RBJ. "Radiology practices need that expertise in order to succeed today."
With the support it gets from US Radiology Specialists, which lists seven member practices on its website, Charlotte Radiology has improved its access to, and implementation of, state-of-the-art clinical technology, Mittl says. And the benefits have not been accompanied by offsetting troubles, he adds.
"The rumors of mass exodus of partner-track radiologists and recruiting headaches from being part of a scaled consolidated enterprise haven't happened here," he says. "When we restructured, we had more than 12 radiologists on the partner track, and none of them have left. In fact, we've recruited many more."
Mittl cites a survey taken one year after the restructuring in which member physicians "strongly endorsed" that they've retained their clinical autonomy.
Productivity Bounce
Krishna Nallamshetty, MD, president of Radiology Associates of Florida (RAF) in Tampa, paints a similar picture. He says becoming a Radiology Partners practice has made it easier for his practice to flourish as the state's health systems contract with one or two imaging services providers rather than as many as 15.
"Our growth has skyrocketed," Nallamshetty tells RBJ. "In the past, if you had 50 radiologists and were asked by a hospital to take over all its imaging services, you would be forced to either hire more radiologists or give the existing base more work."
He says that, 15 or so years ago, practices did fine to work extra shifts and add radiologists to ensure on-call capacity. Today those stratagems don't cut it, he adds. "Becoming part of a larger organization," he says, "has helped us handle these challenges."  
How so? By gaining access to "teams from the national practice," Nallamshetty replies, naming as an example RP's teleradiology division, which lets local rads forgo overnight shifts. Other advantages include a fix to RAF's "very fragmented" IT platform, a unified PACS and the adoption of AI, he says.
Nallamshetty underscores that RAF remains physician-owned despite investor involvement via Radiology Partners. "This is different from the employed physician model, where cases become someone else's problem when physicians are off the clock," he says.
Ted Wen, MD, managing partner at Texas Radiology Associates (TRA) in Plano, has a similar story to tell.
"In our first year as a Collaborative Imaging partner, we've increased our daytime productivity by 14%, and that's continuing to trend upwards," Wen tells RBJ. He says TRA has seen its revenues grow at a sustained 25% clip and its operational costs drop 30%. "Access to quality metrics for accurate reads means accurate turnaround times of about eight minutes, compared to an industry average of 30 minutes," he says.
Wen suggests the impressive figures stem from strategic advantages TRA has been leveraging since it joined with Collaborative Imaging. Asked for examples, he cites workflow and revenue-cycle enhancements, streamlined scheduling and credentialing, technology tools like AI and voice recognition, capital support through cost-sharing or financing and 24/7 teleradiology coverage.
One Size Fits Some
All of that adds up to an undeniably apparent upside for radiology practices thinking about moving in with a PPMC. However, it goes without saying that deals of this type aren't right for every independent radiology group.
Besides, the companies offering the deals aren't necessarily interested in every group that wants in. The least attractive practices tend to be the most averse to change.
"No PPMC sits down with practice leaders and says, 'Doctors, we're buying your practice, and things are going to change in terms of control,'" Davis explains. "If you can't accept that change is inevitable no matter which model you'd be following, then a deal probably isn't the best idea for your practice."
Davis notes how tough the task can be to enumerate all organizational structures now in operation. Some entities have multiple classes of owners, including incoming and outgoing, and some practices have "imperfect" ownership overlap among and between member practices. Add to the mix technical-component-only businesses, management-services organizations and real-estate concerns, and the possibilities may be as endless as they seem.
"Complicated organizational structures and imperfect overlap can make these deals messy and not worth pursuing," he says. "It may come down to how much the benefits outweigh the headaches." 
Anthony Gabriel, MD, Radiology Partners' co-founder and COO, says practices that are "looking to cash out" or to make investor financing the base of their retirement plan can dismay would-be buyers. "At least, these practices aren't right for us," he tells RBJ. "We want a desire for growth to be the catalyst for interest in our model."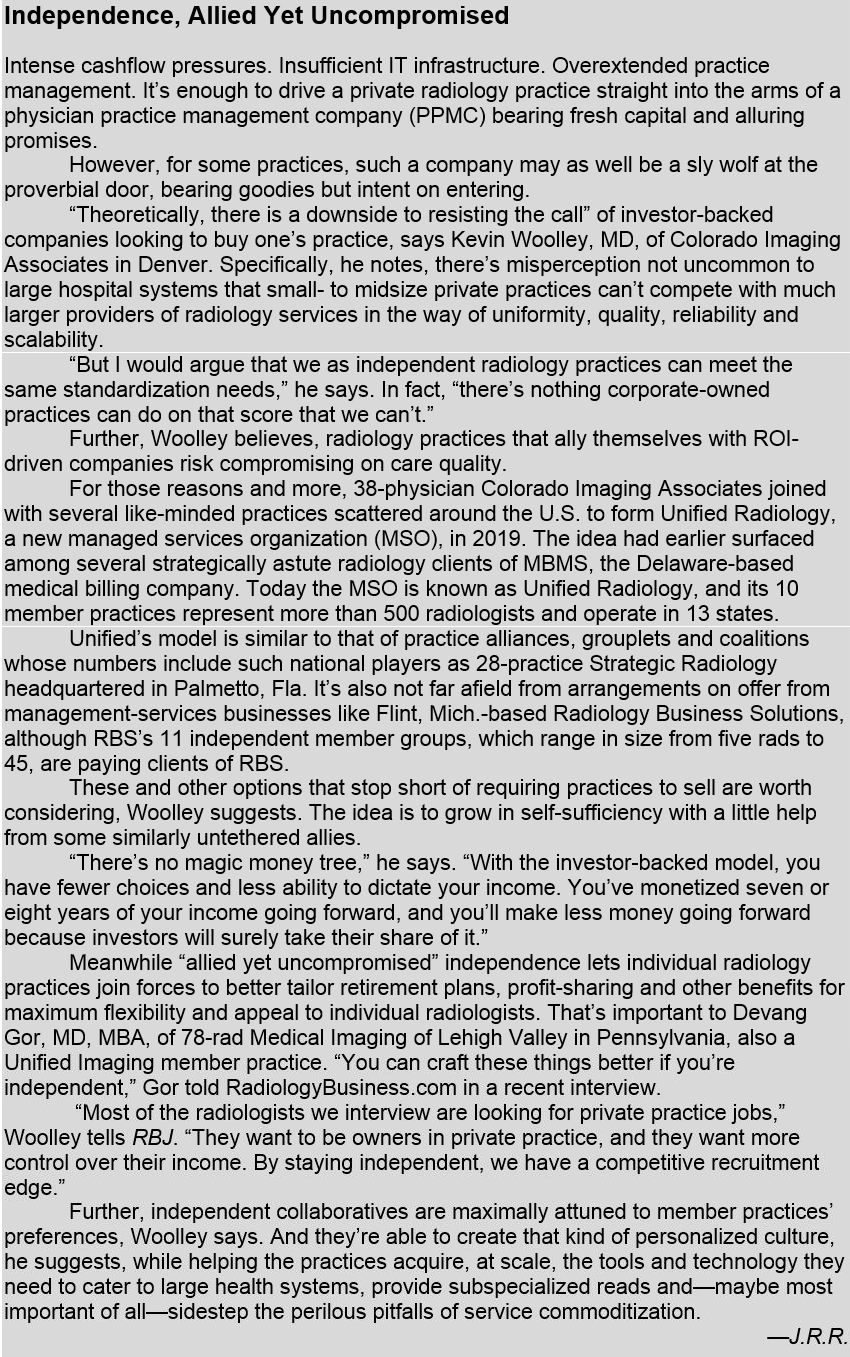 Selling Means Sacrificing
From the perspective of the practice mulling a deal, the disadvantages of "going for it" vary by the model on which the agreement is structured. In every case, however, the downsides of ceding control shouldn't be brushed aside without careful consideration, Davis warns.
He tells his clients that selling always entails a significant sacrifice.
"These are existential deals," he says. "You're selling your practice and giving up a measure of control. You're selling your revenue stream, your income."
That holds whether or not the buying entity is physician-owned, he underscores. "You hope you'll recapture some of that through revenue growth, additional practice opportunities and reduced management expenses," Davis adds. "But there's no guarantee."
Recruitment challenges may arise as well.
"When you sell your revenue stream, the pool of money to pay physicians will be smaller," Davis points out. "Often, doctors who are near partnership level are elevated to partner status at the time of the deal closing. But they aren't making nearly as much as existing partners, and that can cause discontent."
Meanwhile member radiologists who aren't as close to making partner may get relatively modest "stay bonuses" at the deal closing.
Those kinds of moves "only help to a degree," Davis says. "You still aren't going to have as large a pool of money from which to pay."
Even proponents of consolidation with new ownership in one form or another concede that the various models all have drawbacks related to control. Radiologists in consolidated practices generally get to weigh in on certain decisions; however, it's rarely the case that they're given the final word.
"We can say we support a move relating to IT infrastructure, but we aren't the ones actually making the decision anymore," one source explains from credible firsthand experience.
Chopra suggests practices shouldn't be surprised when buyers play hardball over terms and conditions. For example, some of these deals "come with draconian non-compete clauses," he says. "Physicians who leave may have to uproot their lives and go where the consolidator doesn't have a footprint."  
A Durable Development
In somewhat the same vein, certain PPMCs offer contracts that must be renewed every few years. Mittl says the unavoidable uncertainty ranked among the reasons Charlotte Radiology decided to eschew existing consolidation models and create its own. On top of that, he had a strong preference for maintaining full clinical autonomy.
"You should be concerned whether there's a choice of how to schedule work, when to work, how hard to work, how many radiologists to hire, and whom to hire and fire," he says. "Be wary if that's all up to the 'suits.'"
Maybe most important of all: How are radiologists' salaries set? Mittl suggests it's telling when salaries are to be paid as dollars per RVU, straight up, rather than taking into account revenues generated, expenses incurred and other variables.
Further, a PPMC may claim to strive for minimizing the negative impact of geographic distance between radiology practices and the infrastructure components on which they rely.
Gabriel of Radiology Partners acknowledges this hurdle. "It's tough when your revenue cycle management people are two or three states away, or when communication has to happen by conference call instead of in person," he says. "But it's not a deal-breaker."
Attorney Davis stresses that independent practices have alternative paths to choose when a PPMC with deep pockets comes to call. They could try a joint venture with another practice, for example, or membership in a multi-practice alliance of independent practices.
For financially stressed practices, the options are many. However, for some, the sturdy shelter of an investor-owned, investor-backed or otherwise well-capitalized PPMC may only look more inviting over the weeks, months and years ahead. And that means during, following and even long after the world-inverting disruption that is COVID-19.