What it Takes to Walk the Talk on Value
The need to prioritize value over volume has become such a given across U.S. healthcare that it's already entered the "goes without saying" realm. But that doesn't mean the shift is making itself.
In radiology, practices are increasingly pressured to showcase the details of their contribution to medicine. To come up short on this exercise is to fall flat on pay-for-performance models, beginning with those run through CMS's Quality Payment Program. And yet radiology isn't like most other medical specialties.
How do radiologists—especially diagnostic radiologists—define value, much less demonstrate it? 
One of the thought leaders to think hard about that question is Stanford radiologist David Larson, MD, MBA. Larson and colleagues outlined the problem succinctly in a 2017 JACR paper:
The concept of value in radiology has been strongly advocated in recent years as a means of improving patient care and decreasing waste. [However], defining value in diagnostic radiology is challenging for a variety of reasons, especially because the majority of radiologists' efforts are focused on diagnosis and treatment decisions are usually
made by other providers.
So, how do radiologists demonstrate value?
Create Now, Demonstrate Later
"I believe the question of how value in radiology is best demonstrated is not the first question we should be asking," Larson tells RBJ. "It implies that we're already providing a great deal of value and we just need to better measure or demonstrate it."
Radiologists may indeed be adding value to patients' episodes of care, but that's not a productive place to start the conversation, he argues. The first question should be, "How do we create value?" From there, he advises, focus efforts on increasing value. "Our primary measures should be used as self-assessments to see whether we are improving."
The next question, Larson says, is "value to whom?" To the referring physician, he answers.
The patient may be the ultimate beneficiary, he reminds, but radiologists serve the patient indirectly through the expertise they share with referrers.
Jonathan Kruskal, MD, PhD, radiology chair at Beth Israel Deaconess Medical Center in Boston and chair of the radiology executive committee at Harvard Medical School, agrees—and evangelizes. In interviews, presentations and papers, he reiterates that radiologists add the most value when they're laser-focused on helping referrers treat patients.
To make sure they're practicing such attentiveness, Kruskal and his team use an equation that includes appropriateness, quality, safety, outcomes and customer experience.
Those last two, often overlooked, are particularly important, Kruskal suggests.
Outcomes, Not Process
Value relates directly to outcomes, especially for interventional radiologists, Kruskal says. "If we want to show that we're adding value, we need to show that we are improving outcomes and not simply participating in collecting data."
It's time to walk away from simple process metrics, he says, offering an example.
"In the world of peer review and learning, simply measuring how many cases one reviews or adds to a database is a process metric." Analyzing that data, identifying and implementing opportunities for improvement and demonstrating improvement, is an outcome metric.
Interventional radiologists will measure outcomes largely from a process perspective, plus reporting complications, Kruskal explains. "More sophisticated groups are starting to look at the impact of the procedures they perform," he says. "They're linking these [observations] to discharge time, length of hospital stay, and overall outcomes and patient
health status."
The point isn't simply to measure one or more of the components that make up the value equation—you need to tie these together and come up with an actual value metric, he says. "This is an opportunity that many practices are now exploring and are starting to share with their organizations to show the true value that our practices do add to patient care."
Tracking outcomes may apply most directly to interventionalists, but emphasizing customer service is pertinent across the profession, he adds.
Multidisciplinary Mavens
From participating in tumor boards to performing procedures to reviewing images for colleagues to employing dose reduction strategies to minimize radiation dose, radiologists—generalists and subspecialists, interventionalists and pure diagnosticians—add value across the care continuum.
However, the overall value generated by the swirl of activity isn't reflected in traditional metrics such as clinical RVUs, notes Lori Deitte, MD, of Vanderbilt.
Working across disciplines is "one of the things that I love about being a radiologist," says Deitte, who serves her institution as vice chair of radiology education and regularly participates in multidisciplinary tumor boards. She particularly appreciates the value-adding activities inherent in "the collegiality with interdisciplinary and interprofessional members of our team, and the collaborative approach to patient management."
That kind of value, she suggests, just needs to be more widely understood. And it will be, if Deitte's efforts in cross-specialty medical education have anything to do with it.
In a paper she senior-authored, published online in JACR this past March, she Deitte, Slanetz and co-authors write: "Not only do we want to attract top students into the field but we also must ensure that all [med-school] graduates possess essential skills for cost effective integration of imaging into patient care. We must focus on showing our daily value to the health care system, and medical education is just one way to accomplish that."
Available, Affable and Able
Meanwhile, in their 2018 paper for Radiology, "Strategies for Radiology to Thrive in the Value Era," Kruskal and Larson drive home the notion of customer service, calling for a renewed focus on the human aspects of the practice of radiology—collaboration, customer service and the "three As": availability, affability and ability. They write:
Like much of the healthcare system, many radiology practices have evolved more around the convenience of the radiologists than that of patients or referring clinicians. … Moving to a value paradigm requires that we work around the needs and desires of patients and referring clinicians, rather than expecting them to work around ours.
Much of this comes down to providing wise counsel, Kruskal suggests. "If we are to add value and have this recognized by our referring physicians, we need to be available to answer their questions, to consult on studies and to function as the expert physicians that we are," he says. "Not being affable or able will not serve us well at all in this [value] arena."
Automation makes the personal touch more important, not less, he says. "It's our responsibility to ensure that our referring providers understand and have access to the many automated components that encompass an imaging study, from scheduling to receiving results, to managing those results, to communicating those results, to understanding the electronic records, to following up on our reports." 
Radiologists also can provide wise counsel about the appropriateness of studies ordered—and that's before clinical decision support mechanisms check the referrer on appropriate use criteria. (The PAMA mandate on AUC grows real teeth next New Year's Day.)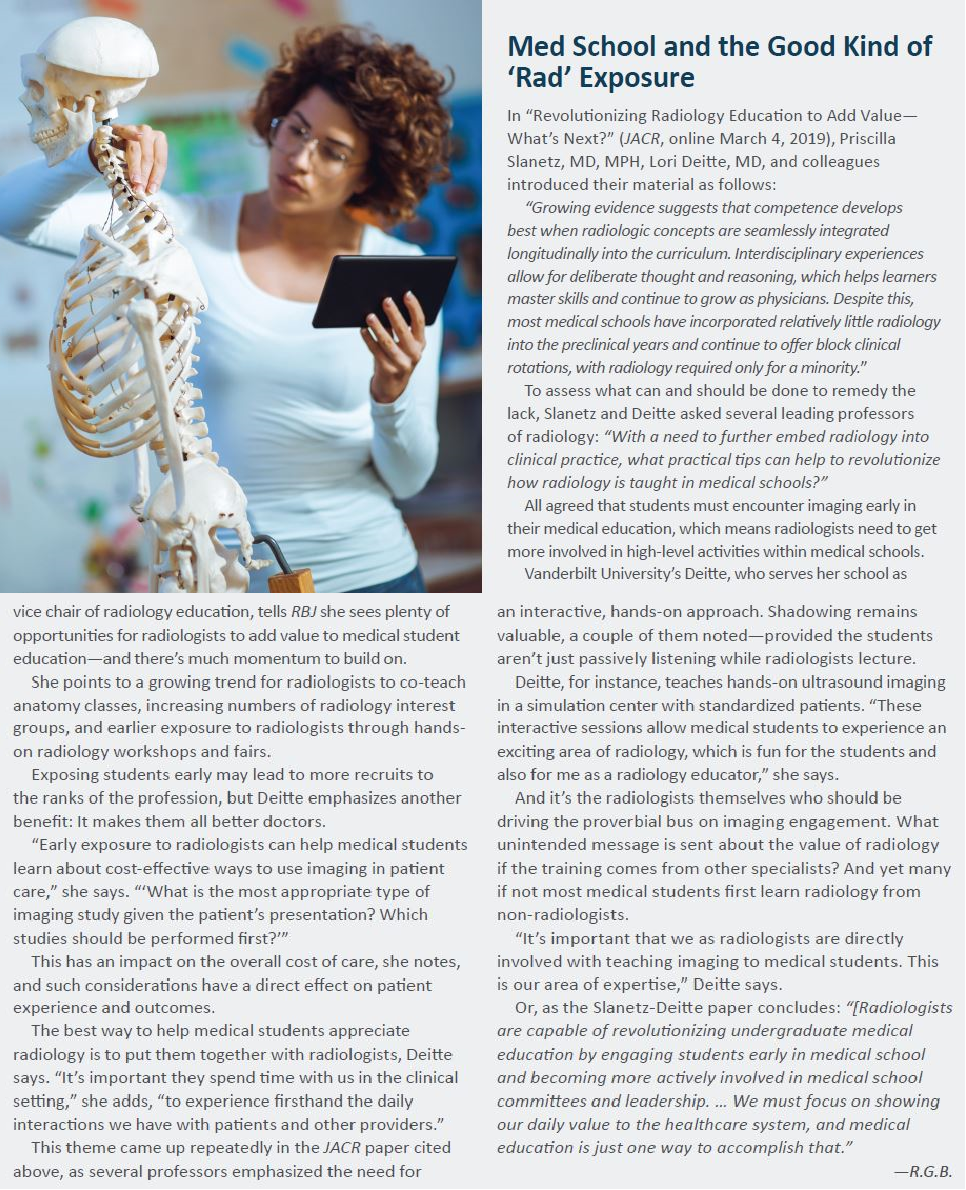 It's all about being an affable and able partner, one who is ready, willing and able to provide good guidance with a human touch.
"If all the referring physicians love the practice, then it makes it very difficult to replace them," Larson says. "If they are great partners in helping the hospital system purchase equipment, oversee quality, contribute to the medical staff and
so forth, then it is in the hospital's best interest to keep them engaged and happy."
Being loved is not a guarantee of preserving a contract, "but it sure helps," Larson says.
It can be relatively simple, too.
Size May Matter
Creating value is "just common sense" for smaller practices in smaller communities, Larson says. "Most referring clinicians in this environment absolutely love their radiologists," he observes. "It's such common sense, in fact, that most radiology practices in this situation barely even recognize they are doing it. They just do it."
As for the practice that reads studies and goes no further, it makes its services a commodity and itself easily replaced, Larson says. Larger practices may actually be at greater risk than small ones, Larson warns, suggesting that consolidation has its downsides to beware of.
"We're starting to see a few very large radiology practices form across the country," he says. "I believe they will only be successful in the long term if they are able to develop the quality standards that are achievable through scale while retaining the personal touch of a small practice. If not, they're likely to sag under their own weight."
Measured Steps
Contrary to popular assumption, the adage "You cannot improve what you do not measure" doesn't translate into "To measure is to improve." Far from it, says Kruskal. Measuring merely for the sake of collecting data has no benefit, he points out.
Measurements make a difference when data is analyzed to identify areas in need of improvement, he maintains.
"In our field, it is way beyond time for believing that we add value—or telling others that we do so—without basing this on actual data."
Another common misconception is that there's only one way to measure value.
To avoid pitfalls opened by such blind spots, Kruskal recommends individual practices use the data "they all most certainly are already collecting" to check for appropriateness, quality, safety, customer service and outcomes.
"Then pull it together and link this to the number of additional studies you might be recommending"—and show the costs of repeat studies and complications—"to come up with a number that reflects your value-add."
That number provides a baseline from which the practice can "strive to continuously improve."
Who Defines Value?
Radiologists don't get to define what constitutes value—the customer does, Kruskal underscores. It's incumbent upon radiologists and their practices to find out what referring physicians and other stakeholders value, measure it and improve on it.
"By taking the excellent services that we do provide and finding a way to convert this into actual numbers that can be used to brand the excellence of our practices," he says, "radiologists will certainly stand out amongst our many other subspecialty colleagues in being able to show true value-add."
Not sure what constitutes value for the customer? Ask. "Reach out to those we serve, ask them how we can better serve them—and act on their input," Larson says. "Typically, the value that we are currently providing to our referring clinicians becomes evident as we work with them to improve our service."
Radiology on the Quad
Of course, collaborating with referrers doesn't always enlighten them on the finer points of radiology. And sometimes value is embedded in the finer points.
Stated another way: Do most new physicians leave medical school with an adequate understanding of radiology? Probably not. A 2018 study published in Academic Radiology appears to confirm the basis for that long-standing worry.
Schiller et al. set out to assess, based on perspectives of residency program directors across specialties, whether graduates were equipped to use and interpret medical imaging ("Radiology Education in Medical School and Residency: The Views and Needs of Program Directors"). Their conclusion: There exists "a deficiency in imaging education among interns across specialties," one deep enough that it "calls for formalized and improved radiology education in undergraduate medical education."
Prior to the value-based care era, that finding might have been interesting but not pressing. Today it reflects a problem that must be addressed.
"Sometimes people don't realize how many patients we touch," says Deitte. Although there is general acknowledgement of the vital role that imaging plays in patient care, "the role of the radiologist isn't always fully appreciated."
That needs to change, she suggests, if radiology is to become a leader in value-based healthcare across the board.
Beyond Payment Pressures
While the acceleration of value-based reimbursement models is reason enough for radiologists to get on board the show-your-value express, it's not a standalone motivator.
Markets are becoming more competitive as information technology continues to drive medicine, Larson points out.
Meanwhile, quality measures are likely to become more sophisticated as artificial intelligence matures.
Additionally, as health systems are becoming increasingly complex, AI becomes increasingly dependent on those who can collaborate with one another, he says.
And, of course, diagnostic imaging methods are becoming more sophisticated, requiring greater standardization and decision-support tools.
"All of this suggests that, increasingly, radiology practices that cannot continuously improve their processes will find their quality and service naturally eroding over time," Larson says. "Those that cannot continually increase their value—not just demonstrate their value—are unlikely to thrive."