Objective Evidence on Image Quality Points to a Clear Choice for CT
What a difference three years can make. In 2018 the radiologists of Tallahassee Memorial HealthCare registered a unanimous opinion: "There's no way we're going with Hitachi as our CT supplier." Late 2021 finds the same tough crowd still united on the CT front. But now the group is singing from a very different sheet of music:
"How soon can we outfit all five of our CT suites with Fujifilm/Hitachi Scenaria View scanners?"
Three of these are installed so far. Two more are on the way.
The path by which the team arrived at an enthusiastic Yes to Fujifilm/Hitachi CT presents an object lesson in how empirical evidence, when given the chance, can rightly triumph over preconceived notions.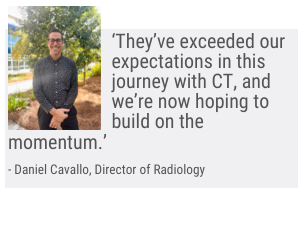 Daniel Cavallo, director of radiology at 772-bed Tallahassee Memorial, recently recounted the journey for Radiology Business. He had an assist from Joe Langdon, the hospital's lead CT technologist, and Jamie Lasseter, manager of the CT department.
Nothing trumps image quality  
Tallahassee Memorial HealthCare, or TMH, serves 17 counties in Florida's Big Bend region, where the panhandle meets the peninsula. The system's two emergency rooms—a 64-bed unit in the main hospital and a freestanding 36-bed facility off campus—together perform about 55,000 CT scans per year. Inpatient CT studies total close to 7,500 per year and outpatient scanners handle another 5,000.
In recent years the hospital has seen its diagnostic and therapeutic service lines grow at an overall annual rate of about 8%. This is one reason its imaging stakeholders went shopping for new CT technology in 2018.
At the same time, the choosy radiologists had nothing against Hitachi—now a part of Fujifilm Healthcare—per se. They simply assumed they'd stick with a more widely familiar OEM, preferably one of medical imaging's Big Four.
Cavallo wanted broader perspective. He sent a request for proposal to six CT contenders, all of whom had a reputation for product excellence and innovation.
Interestingly, however, it wasn't precisely a desire for leading-edge technology that put TMH in the market for new CT technology in the first place.
"As our CT systems were coming toward the end of their life cycle, our main challenges were service, reliability and support," Cavallo recalls. "We wanted a system and a partner we could rely on for steady uptime. When it goes down and you fix it, it needs to stay fixed and stop having issues."
On the other hand, there would be no room for compromise by any machine on technical performance.
"Our top priority when evaluating any product for imaging is image quality," Cavallo says. "We want to give our physicians the best images they can get to diagnose, classify or rule out disease. Overall we're just very focused on a quality-first approach."
Head to head
Knowing the power that long-running relationships can wield over decisions around industry partners, Cavallo set up an objective image-quality competition for the six vendors. Their then-current Big Four vendor was part of that mix.  
The test was thorough. Each candidate company had to submit six separate real-world cases involving six different body parts. After deidentifying vendors as well as patients, Cavallo and colleagues uploaded this data—which comprised close to 90,000 images—to TMH's PACS.
Equipped with hard evidence, the rads conducted side-by-side blind comparisons and, by secret ballot, ranked the contenders from best to worst for image quality. The aggregated results showed Hitachi and the incumbent vendor tied for first place.
For the final round, the acquisition team drilled down into functionality, cost and service. The outcome of this matchup surprised all but—thanks to Cavallo and colleagues' exercise in quality quantification—dismayed none.
The clear winner: Hitachi's, now Fujifilm's, Scenaria CT technology.
First of five
Hitachi's corporate transition to Fujifilm wrapped in early 2021. Looking back at that transition, Cavallo remembers no hitches at Tallahassee Memorial.
In May 2019, the first Fujifilm Scenaria scanner went into a neuro ICU in TMH's new MT Mustian Center for surgery and critical care. This made sense because, during negotiations, TMH's radiology group challenged Hitachi to supply 120-millimeter brain shuttle perfusion for stroke care.
"They didn't have that at the time," Cavallo says. "But they took our request to their R&D people in Japan and, soon enough, they developed and delivered the feature with our first system."
With that done, TMH radiologists and technologists took six months to vet the technology, learn how best to use it and train the full staff on it.
During this period, "we were concerned with pushback, and we were really surprised with how well the staff transitioned," Cavallo says. "From my standpoint, it was a fairly easy transition for the staff. Sure, it was change, which always brings some resistance, but we didn't see the earthquake we'd anticipated."
Lead CT technologist Langdon agrees. "Sure, we had some pushback from certain staff members who were loyal to [the previous vendor], but eventually, with use and time on the scanner, that pushback all went away—and went away very quietly," he says. "The transition was pretty seamless."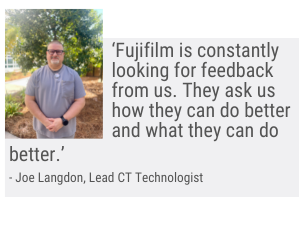 "Fujifilm's applications specialists went out of their way to work with us around the clock," adds CT manager Lasseter. "They literally scheduled themselves day shift and night shift to work with our staff, get our techs all trained and make the transition as seamless for us as possible."
A partnership blossoms
TMH's second Scenaria, now into its run as the Scenaria View edition, was installed in the main CT department in late 2019. A third followed in early 2021, sited in the busy Bixler Trauma & Emergency Center. And the original Scenaria has been upgraded to the View generation.
Plans are to replace the last two legacy scanners with Views—one in the freestanding ER and the other in the main CT department.
That's still not all.
"I'm very confident in the partnership we have with Fujifilm and in how that relationship will help enable us to better serve our communities," says Cavallo, adding that equipment in other imaging modalities is coming due for replacement.
Fujifilm is at the table for X-ray, including a fleet of mobile machines, he says, and fluoroscopy may be in the mix as well.
"They've exceeded our expectations in this journey with CT," he says, "and we're now hoping to build on the momentum."
"Fujifilm is constantly looking for feedback from us," offers Langdon. "They ask us how they can do better and what they can do better. They're always working to develop our partnership moving forward."
5 verifiable value-adds  
Other points of post-selection product satisfaction from Cavallo, Langdon and Lasseter:
View's automated table also moves laterally for optimal patient positioning.

This is especially helpful for orthopedics cases, the three agree, and it translates to better image quality and fewer re-takes. "It's been a huge improvement over what we had" with the previous scanner, says Langdon.

The combination of the View's technical prowess with TMH-Fujifilm human collaboration has yielded a marked decrease in contrast utilization.

"Due to the image quality we're seeing with Scenaria View, we're administering less contrast to more patients," Lasseter explains. "This means CT scans are not only safer but also more cost-effective."

Fujifilm applications experts have shown TMH's neuroimaging team how to apply an abdominal motion-correction feature to challenging head CT exams.

"Where most technologists would want to repeat a head scan, now we can tweak that correction tool so patient movement doesn't mean the tech has to repeat the exam," Langdon says.

Faster scan times and fewer images to obtain adequate diagnostic information means "everything" can be done on one screen where two were needed in the past.

"Our technologists can post-process images in a way they learned

through the partnership with Fujifilm," Lasseter says. "The application specialists have helped us with that too."

Fujifilm offers unlimited applications support.

This separates the company from others in the field who charge per click, hour or some other finite measurement. "I think it's safe to say that, with unlimited applications on top of partnering on process improvement, we're probably saving in the neighborhood of $20,000 a year that would have been needed for training on things like contrast reduction," Cavallo says. "And even with that spend, you might not actually achieve things like meaningful contrast reduction."
"That's a big value-add right there," he says. "And it's one of many that can be easily overlooked."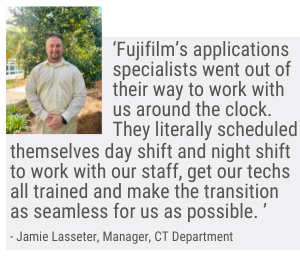 Family, friends, neighbors 
Asked what he's most eager to achieve in his work going forward, Cavallo thinks back and digs deep.
"Healthcare impacted me at a very young age," he tells Radiology Business. "I have a twin brother. When we were 15 years old, he had a brain tumor. Today he's in this field too, working as a CT manager. The experience we went through all those years ago helps me see things from the point of view of the patient and the family. And that's every day, no matter what frustrations or challenges my workday might bring."
"Drawing on what drives me," he adds, "I find it very gratifying to see the ways Fujifilm is helping Tallahassee Memorial save and improve lives in our Big Bend community."
Langdon seconds that. "We're giving physicians in the community important diagnostic data they need to give our patients a better quality of life," he says. "It means a lot to be here doing what we do so that people don't have to leave the area to receive quality care."
"I look at all our patients like they're part of my own family," Langdon adds, "and there's nothing more satisfying than doing your best for your family, friends and neighbors."
For more on Scenaria View, click here.
Other content sponsored by FUJIFILM Healthcare Americas