Medical 3D printing is outpacing ways to pay for it
While three-dimensional printing has been used in various industries for more than three decades, it took medicine just three or so years to catapult the technology into the popular imagination. Among burgeoning areas of healthcare innovation, probably AI alone has made more headlines in that short a span. And life-size models of individual patients' organs, which allow surgeons to carefully plan complex procedures and consult with patients and families, are just the start. 
If you attended RSNA 2017, or just read news coverage thereof, you've heard the word. On the not-so-distant horizon are cutting guides for reconstructive surgery and patient-tailored, highly cost-effective prosthetics. In the longer-term picture is bioprinting, a collection of technologies that promises to lay down the cellular scaffolding for a dependable supply of bodily tissues and organs. And if that sounds like so much sci-fi "imagineering," consider that researchers at Princeton have already created a 3D-printed ear that can hear radio frequencies imperceptible to the human eardrum.
What often goes unnoticed in all the excitement is how vital a role radiology will likely play in this unfolding future. After all, 3D printing of anatomical structures—the internal ones, at least—is only made possible through radiological datasets.
This fact alone gives the profession an enviable perch from which to grow its service repertoire beyond image interpretation into an exciting new domain that requires greater collaboration, consultation and patient-physician interaction.
As Frank J. Rybicki, MD, PhD, chair of radiology at the University of Ottawa and a widely recognized 3D printing pioneer, puts it, "3D printing is radiology's answer to personalized medicine."
Alas, there's one hitch to this technological stargazing—and it's no trivial matter: Who's going to pay for all of this?
Nascent Value Proposition
3D printing services are not currently reimbursed by either CMS or private payers. For this to change, large-scale clinical evidence supporting the medical necessity and cost effectiveness of 3D printing will need to be marshalled—evidence that goes well beyond the anecdotal and small case studies that have been done so far.
"Getting reimbursed would certainly provide a fundamental change for a field that is very new," says Justin Ryan, PhD, who heads up the cardiac 3D print lab at the Children's Heart Center of Phoenix Children's Hospital and Arizona State University. Opening the monetary spigot would help to ensure that hospitals large and small could afford expensive 3D printers, he elaborates, or it could generate a robust market for leasing machines to institutions that would pay for them based on actual usage, meaning 3D models produced.
Increasingly, 3D printing has been moving from private industry into hospital settings. Around 100 institutions in North America, largely academic medical centers, have 3D printing centers.
Lacking direct reimbursement, however, or even a practical indirect-recoupment path via bundling, these facilities typically absorb 3D printing costs via radiology or other departmental budgets.
At Phoenix Children's 3D print lab, which was launched in 2012 with a 3D printer and two computers for $75,000, costs from the 450 patient-specific heart models created to date have been defrayed through philanthropic donations and by research grants and opportunities, according to Ryan.
Jenny Chen, MD, a radiologist who founded and is CEO of 3DHeals, a for-profit company based in San Francisco, frames the funding dilemma this way: "If you provide a valuable service that offers some kind of return on investment, then someone is  going to pay for it. But you have to first figure out the best ways to use the [3D printing] technology—what ways will it provide greatest value in the health-care space?"
Reimbursement Thinking Caps
The quest for 3D printing reimbursement that's most noticeably gathering momentum is focused on answering that question. And there's a unified group directing that effort: RSNA's 3D Printing Special Interest Group (SIG). Working with the American College of Radiology, the SIG is strategizing ways to secure reimbursement for 3D printing  services from CMS and other third-party payers.
One of the rubs is that current CPT codes cover advanced visualization performed by a radiologist—including 3D visualization—but there is no clear pathway for reimbursement if a DICOM image dataset is converted to a 3D-printed model. In Japan, by comparison, reimbursement is available to support 3D printing.
What the pro-reimbursement forces are attempting to show in a cogent way, mainly through the publishing of peer-reviewed literature, is how 3D printing technology can reduce operating time, improve surgical accuracy and trigger cost efficiencies. While their efforts are currently geared to 3D-printed anatomical models, surgical cutting guides—which lie somewhat down the road for hospitals—are seen as a way to bolster the case. 
"Cutting guides can save an enormous amount of time and money in the operating room by customizing a surgery," says Rybicki, founder and first chair of RSNA's SIG, which now numbers some 200 members who are actively involved in 3D printing. "Overall healthcare expenses also go way down with cutting guides."  
When will CPT codes for 3D printing be forthcoming from the American Medical Association, which is responsible for creating and establishing them? "We are making progress," reports Rybicki, without venturing a timetable. What is known is that once the CPT billing codes are in place, CMS can use them to determine Medicare reimbursement rates for 3D printing services. At that point, private payers would probably follow.  
And that could well be the green light that everyone in the 3D printing arena—from physicians and hospitals to researchers and entrepreneurs—has been anxiously awaiting.
"Once we overcome the barriers for reimbursement, most likely through established codes," Rybicki says, "these codes can be used by trained medical professionals using best practices to incorporate medical modeling into appropriate clinical care pathways."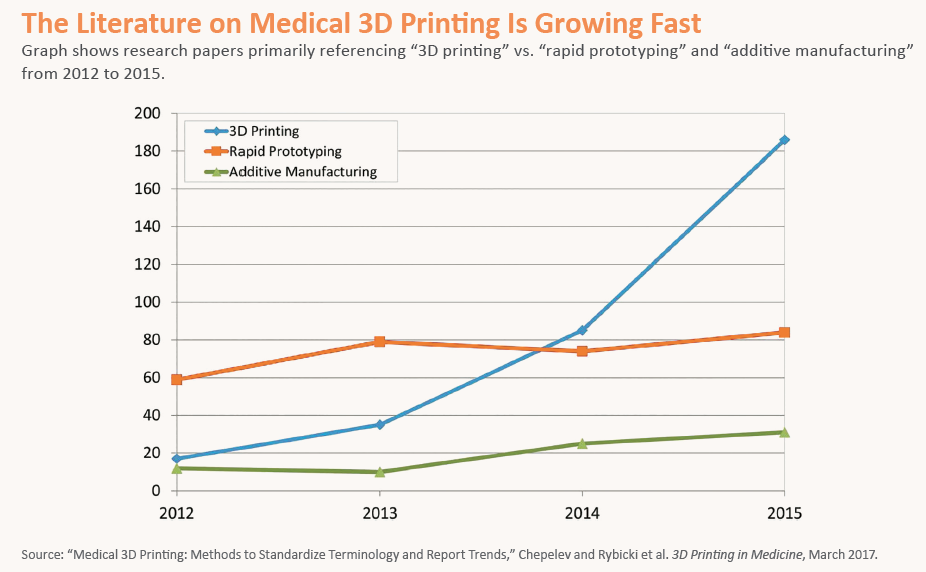 This May Yet Be 3D's Year
Reimbursement is not the only hurdle facing 3D printing in medicine. The standard DICOM format of PACS in radiology labs is currently unable to store 3D print files. Working to close that critical gap by bringing 3D files into the DICOM format so they can be stored natively with the patient's record is a dedicated DICOM work group, the DICOM Standards Committee's WG-17.
And by mid-2019, according to Phoenix Children's Hospital's Ryan, who co-chairs the work group, industry adoption of r ecommendations from the group should result in the ability to encapsulate within DICOM the majority of 3D files used for medical modeling.
Encapsulation of basic 3D print files, however, could come as soon as this summer. Such compatibility would indeed represent a big step, not least because it would piggyback on market forces driving down the cost of entry for 3D printing hardware and software. And it would further spur a field that's poised for fast growth as more and more hospitals, radiologists and surgeons become smitten with the science.
While reimbursement will still likely determine when the floodgates open wide, 3D technology has come entirely too far in the view of most experts to show any signs of backpedaling.