Radiology practice launches marketing campaign to attract patients as it reopens locations
A New Jersey imaging practice has launched a campaign to inform its customers about the seven simple steps it's taking to keep visitors safe.
Montclair Radiology this month is rolling out a new virtual registration and check-in process, which it says is designed to mitigate transmission of COVID-19 by eliminating any contact between patients and providers.
The practice said its new registration procedures start by scheduling an appointment over the phone and conclude at departure, with no checkout required. In between, patients can text Montclair Radiology when they pull up in the parking lot for their visit, enter after receiving a response, and receive a quick temperature check upon intake.
"I believe our primary responsibility is to do everything possible to provide the safest environment for our patients and their families especially during these uncertain times," Denise McFadden, MD, president of Montclair Radiology, said in an announcement posted on Patch.com May 6. "We have been taking care of the community for over 75 years and our patients trust us to keep them safe."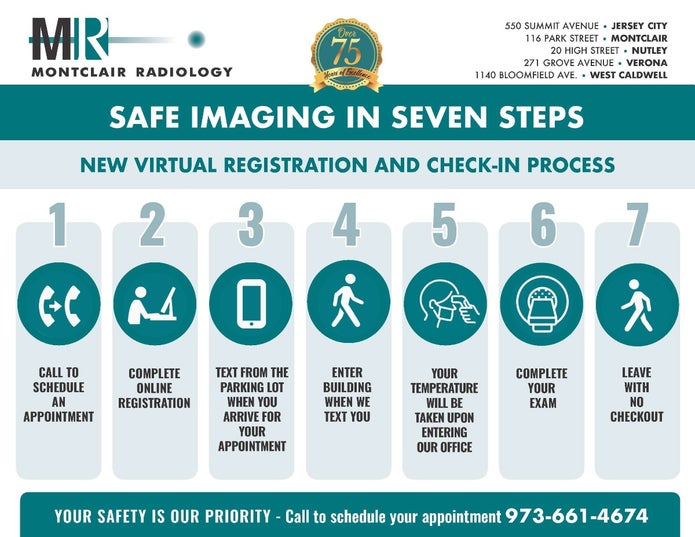 The physician-owned practice has been in business since 1942, with five locations in New Jersey, including two that just reopened May 11 in Montclair and Verona. In another post shared on Facebook, McFadden and colleagues said they've also adopted enhanced safety measures. Those range from checking every employee's temperature daily to wearing gloves and masks, placing acrylic barriers at reception, social distancing, and sanitizing all dressing and exam rooms after each visit.
Montclair Radiology has additionally posted a 90-second video on YouTube, detailing its new registration process, concluding with its phone number and encouragement to schedule an appointment. Several other practices across the country have also promoted their safety measures in recent weeks, highlighting everything from new mobile apps to acronyms that spell out their safety precautions.