Explosive growth in ASC codes fuels opportunity
Since the introduction of the concept of an interventional radiology ambulatory surgery center ("irASC") in 2016, there's been an explosion in the number of billing codes that permit irASCs to collect for outpatient interventional procedures.
Simply put, more billing codes means more opportunity for interventional radiologists and their groups to profit from irASC ownership. In a rare quadruple-win, it also means higher patient satisfaction, increased professional satisfaction for interventional radiologists, and lower costs to patients and payers when compared with procedures performed in hospitals or hospital outpatient settings.
To understand what an irASC is, it's essential for radiologists to understand what an irASC is not. An irASC is not an imaging center and, because of that salient fact, it's not reimbursed in an equivalent manner.
As radiologists know, imaging services are reimbursed based on two components—the technical component, which reimburses the center for the use of the equipment and the personnel performing the scan, and the professional component, which reimburses the radiologist for the interpretation.
However, irASCs are, as the name indicates, ambulatory surgery centers. They're certified, licensed, operated and reimbursed on the same basis as ASCs owned by, for example, orthopedic surgeons, gastroenterologists or ophthalmologists. ASCs are reimbursed by Medicare and by other payers based on current procedural terminology ("CPT") coded facility fees, which, depending on the procedure, can be quite significant.
So why haven't irASCs existed for years?
The answer's simple: Prior to 2016, Medicare, whose decisions as to what CPT codes they'll reimburse in the ASC setting drives the entire market, hadn't added a sufficient number of procedures to its approved list. 
That's all changed. 
Explosive Growth in irASC Codes
In 2015, Medicare authorized approximately 30 IR procedures codes for irASC payment. And, as mentioned above, Medicare's decision to reimburse for procedures at an ambulatory surgery center influences reimbursement decisions on the part of commercial payers.
With only 30 CPT codes available at that time, it didn't make sense to consider investing in an irASC. Instead, IR procedures were performed in the hospital setting and, where clinically appropriate, in the physician office setting. 
However, with an eye to 2015 as the baseline, consider the following:
▲ In its 2016 Ambulatory Surgery Center Fee Schedule, Medicare added approximately 117 new IR procedure codes.
▲ In 2017, Medicare added close to 90 new codes to the list, creating a total of over 230 CPT codes supporting irASC facility fees.
▲ And now, for 2018, Medicare has added an additional 176 irASC CPT codes.
This is only the beginning. We forecast even greater expansion of available irASC codes over the coming years. The reason is very simple: Medicare and commercial payers want—and need—to cut costs, and they are pushing cases from the hospital to the ASC setting to achieve that goal. But to do so requires more ASC CPT codes, including more irASC codes.
This cost-savings push to the ASC setting has another, positive, impact: the amelioration of the concern on the part of both interventional and diagnostic radiologists and their groups that developing an irASC will make them persona non grata with hospitals.  
However, the inescapable fact is that payers will push IR procedures out of the hospital setting just as they are already pushing imaging procedures out of the hospital to imaging centers. (See "No Love Lost for Anthem Imaging Policy" in the February-March edition of this magazine.) IR cases will flow to irASCs whether they're owned by interventional radiologists or by, say, interventional cardiologists employing interventional radiologists. It's your choice.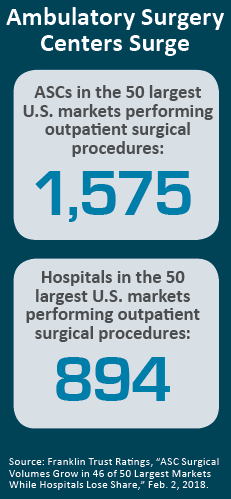 A Budding Business Opportunity
The facility side reimbursement for irASC cases runs well into the four figures per procedure.
Due to antitrust restrictions, we can't reveal actual figures in connection with contracted (as opposed to Medicare fee schedule) rates. However, some interventional radiology procedures that would result in a hospital charge in the range of $25,000 (exclusive of any physician fee) can be performed in an irASC setting for an all-inclusive (facility plus all physicians') fee in the range of $10,000 to $15,000 and still be quite profitable to the irASC due to the much lower surgery center cost structure.
But simply looking at what Medicare pays, consider the following examples of scheduled irASC fees:
▲ CPT code 33213, "insertion of pacemaker pulse generator only, with existing dual leads," generates Medicare irASC reimbursement (i.e., the facility fee alone, which is paid in addition to all physician fees) of more than $7,600 for an irASC. That same procedure performed in a physician's office would yield a Medicare Office-Based Surgery payment of approximately $350.
▲ CPT code 33210, "insertion or replacement of temporary transvenous single chamber cardiac electrode," generates Medicare irASC reimbursement of more than $3,600, versus a little over $170 in an office setting. 
▲ And CPT code 47556, "biliary endoscopy," yields Medicare irASC reimbursement of more than $3,000. If that same procedure were performed in the physician office setting, the reimbursement would be approximately $430.
Again, keep in mind that the irASC fee collected by the facility is in addition to the professional fee for the interventional radiologist's services that the physician or radiology group collects.
Getting Started
Done correctly, the irASC development process starts with an analysis of projected cases, case volumes, collections and, of course, costs of development and operation. Although an irASC is an ASC for payment purposes, due to the inherently different nature of interventional surgery, it's extremely important that a development consultant with irASC experience be brought on board at the initial stage.
Note that what are first seen as deficiencies in volumes are not necessarily a red light to halt the project. An expansion of those participating in the venture, both from within and outside the ranks of interventional radiology, for example, from interventional cardiology, can dramatically change the results of the analysis.
Once past the initial analysis, it's important to put together a team of deal-oriented, irASC-experienced counsel and experts in architecture, design and construction. There are significant legal, compliance, licensing and accreditation requirements that must be understood and planned for in advance of beginning forward movement toward the development of an irASC facility. Retrofitting a deal to comply with, for example, the federal Anti-Kickback Statute or, say, the specific construction requirements applicable to obtaining irASC accreditation, is far more costly than planning and executing the correct "build" upfront.
irASCs present a tremendous opportunity for interventional radiologists and their groups to capture both the professional fee and the facility fee for many interventional procedures. With careful analysis and planning, investment in a properly structured and designed irASC can deliver a tremendous and ongoing financial return. 
Weiss is an attorney specialized in business and legal issues affecting physicians, physician groups and physician-owned facilities on a national basis, with offices in Dallas, Los Angeles and Santa Barbara, Calif. Kronawitter is president of HDA Enterprises, Inc., in Delray Beach, Fla., which designs, develops, manages and markets healthcare facilities.